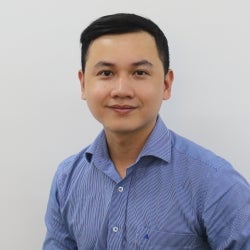 Program Manager, Accreditation and Quality Assurance
Representative Office Vietnam
Arizona State University
thai.tranvan@asu.edu
Mr. Thai Tran is Program Manager for Accreditation and Quality Assurance based at the ASU Representative Office (ASURO) in Vietnam. In his role, Thai is the primary liaison with BUILD-IT academic partner leadership to develop and implement coaching and training for leadership strategy development, accreditation and quality assurance technical areas. Thai supports partner university leadership in the development and monitoring of their project goals, KPIs, and workplans to ensure that the programming supports the partner universities' needs.
Thai brings his skill in assessment and his interest in accreditation to support BUILD-IT project assessment needs, and to provide training and coaching to university partners in implementing their accreditation goals. Thai serves as in-country lead in the development and implementation of local training workshops and coaching sessions related to the implementation of quality systems and accreditation. He facilitates the completion of reporting and self-study documents for partner institutions, and function as a formally (ABET/AUN) accreditation resource.
Thai has over six years of experience in international and regional education and training for university leaders, administrators and teaching staff in Vietnam and Southeast Asia. He served as internal quality auditor for SEAMEO RETRAC and has managed formative and summative assessment, evaluation and reporting. Joining the ASURO team, Thai provides local oversight and leads the execution of project monitoring, evaluation, data collection and reporting activities for ASU's Higher Education initiatives in Vietnam and Southeast Asia.