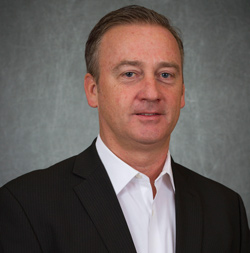 Associate Vice Provost for Southeast Asia Programs
BUILD-IT PrincipaI Investigator
Arizona State University
jeffrey.goss@asu.edu
Jeffrey Goss has served as the Executive Director for the Office of Global Outreach and Extended Education and Assistant Dean in the Ira A Fulton Schools of Engineering at Arizona State University for the past fourteen years.
Mr. Goss has more than 20 years of experience in professional and executive education collectively at University of Maryland, George Washington University, University of Michigan, and Arizona State University. At ASU's Fulton School of Engineering, Mr. Goss leads Global Engagement, ASU Engineering Online graduate degree programs, and Executive/Professional Development programs. His research areas include global workforce development learning models and the development and application of new technologies and distributed-media models for adult learning.
Since 2010, Mr. Goss has been the Principal Investigator/Project Director for the Higher Engineering Education Alliance Program (HEEAP), focused on modernization and transformation of teaching and learning in undergraduate engineering programs in Vietnam. In this role he has worked in both Vietnam and the United States on faculty and curriculum development to advance Vietnam's economic growth. He has strong relationships with senior officials in the Ministry of Education and Training and the Ministry of Industry, Invalids and Social Affairs, as well as leaders of the high-tech industry in Vietnam. Mr. Goss also has extensive experience in the administration of sub-agreements. Under an existing project funded by USAID and Intel, Mr. Goss has partnered with five major universities in Vietnam to prepare faculty to excel in teaching students to attain technical expertise, English, and the soft skills and competencies to succeed on a global engineering stage.
He received his BS in Public Relations and Management from Central Michigan University (Mt. Pleasant, MI) and Master of Arts Degree in Higher Education Administration from George Washington University (Washington, DC). Under Mr. Goss' direction, thousands of global engineering professionals from various corporate organizations have advanced their companies and employee's careers with training through executive seminars, certifications.