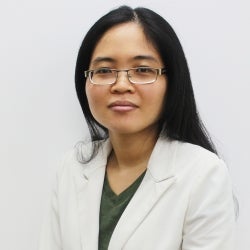 Accreditation and Quality Assurance Specialist
Representative Office Vietnam
Arizona State University
mai.ha@asu.edu
Prior to joining ASU, Ms. Ha served for eleven years in senior leadership roles in economic development research in Vietnam, including the Da Nang Institute for Socio-Economic Development. Proficient at both quantitative and qualitative methods, Ha conducts a wide breadth of research, analysis and evaluation models and brings expertise in desk study review, survey development and implementation, consultation and needs assessment, in-depth interview, site-based study.
As a former public relations executive, she also brings the ability to compose data-driven reports, action plans, and experience liaising with relevant stakeholders to establish and maintain good relationships with government partners, NGOs, civil society, press, and media.
Ha earned a master degree in economics from Macquarie University, Sydney Australia and a bachelor of commerce (applied finance) from the same university.