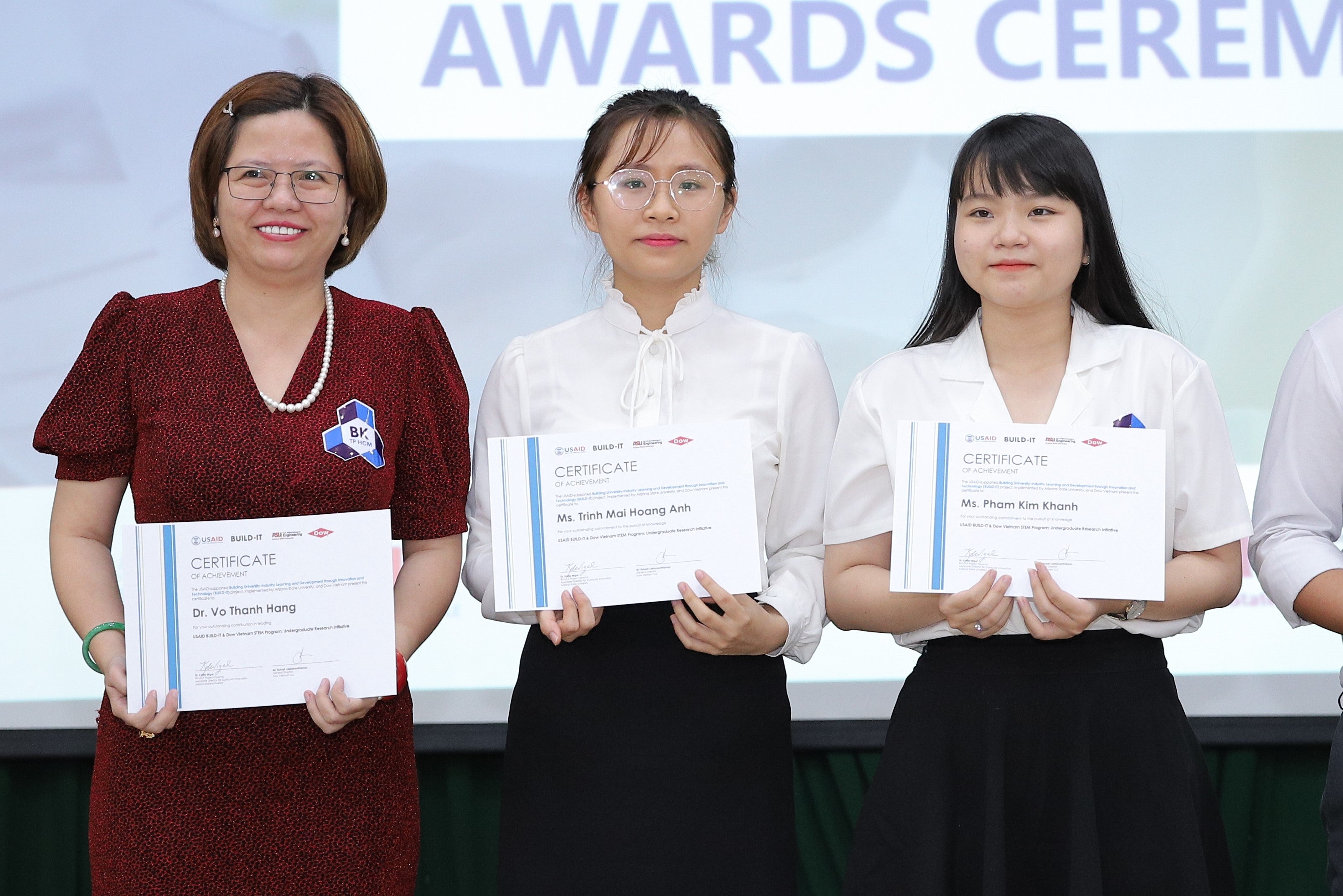 Trinh Mai Hoang Anh and Pham Kim Khanh will have their Undergraduate Research Initiative (URI) findings published! Hoang Anh and Khanh, two second-year university women at the Ho Chi Minh City University of Technology (HCMUT), were thrilled when they heard that the ICERES2021 Environmental Science Conference agreed to publish their URI findings in October 2021. Their peers, parents, and a charismatic mentor encouraged them through their journey from students to researchers. Recent recognition of their work demonstrates just what can happen when experienced faculty and curious students team up for real-world research!
While Hoang Anh and Khanh are both second-year chemical engineering students at HCMUT, they arrived at engineering from different life paths. Hoang Anh followed her brother from Dak Lak to Ho Chi Minh City for university. While she is a hardworking student, her competitive peers at one of Vietnam's top engineering universities intimidated her. On the other hand, Khanh grew up in the city and followed her father's footsteps by studying engineering at HCMUT. The two women became close friends during a first-year engineering course with Dr. Vo Thanh Hang.
Dr. Hang led HCMUT's first Undergraduate Research Initiative (URI) program in 2020. URI is a research mentoring program implemented by USAID BUILD-IT and Dow Vietnam. She felt that Hoang Anh and Khanh would grow through URI and encouraged them to join her for direct research mentoring. At first, they were intimidated by the idea of working directly with Dr. Hang. They could tell that Dr. Hang would be a demanding mentor. They figured that the chance to have a passionate and published female research mentor guide them through their project was indispensable - so they dove right in.
"Dr. Hang is tough! She gave us tight deadlines and pushed us to follow them. She made sure our final presentation went through eight reviews before we submitted it," Hoang Anh shared.
Over the following year, Hoang Anh, Khanh, and Dr. Hang studied earthworm digestion. They experimented with different worm feeding environments and analyzed how each affected the worms' ability to digest food waste into biomass. Bucking any stereotypes that young women are afraid of bugs or getting their hands dirty, they turned an unused lab room into a worm farm. Hoang Anh and Khanh invited men from their classes to join in the fun and help them care for their growing worm farm.
Dr. Hang saw to it that the duo learned experimental design, data management, computer-assisted design, and evidence-based research presentations. She encouraged Hoang Anh and Khanh to read scientific journals and peer-reviewed websites in English. Dr. Hang wanted to prepare them to share their work with a global audience and she insisted they write their notes and conduct their meetings in English.
"

It wasn't easy

! I had never been asked to do this before. My English proficiency, especially in engineering, improved a lot. After URI, we both took the IELTS and scored above 6.0," Khanh shared.
In March 2021, BUILD-IT invited them to present their findings at the Undergraduate Research Initiative Award Ceremony. Cheered on by their peers, parents, and mentor, the Hoang Anh and Khanh also submitted their research to the forthcoming ICERES Environmental Science Conference. Dr. Hang's department even covered their registration fee and helped them through another round of English edits. In June 2021, the conference organizers announced, to the team's delight, that they would publish their research with Hoang Anh and Khanh as first authors.
Seeing a student's findings published in international proceedings goes well beyond the URI's program expectations. It demonstrates that when passion guides students' work, their initiatives can push them to new horizons. BUILD-IT academic partners are working to integrate student-led research into their curriculum. Hoang Anh and Khanh's publication will inspire more students to dive into research and make discoveries while in university.
As Hoang Anh and Khanh's conference debut approaches, you can get a sneak peek of their work from their project introduction video below.