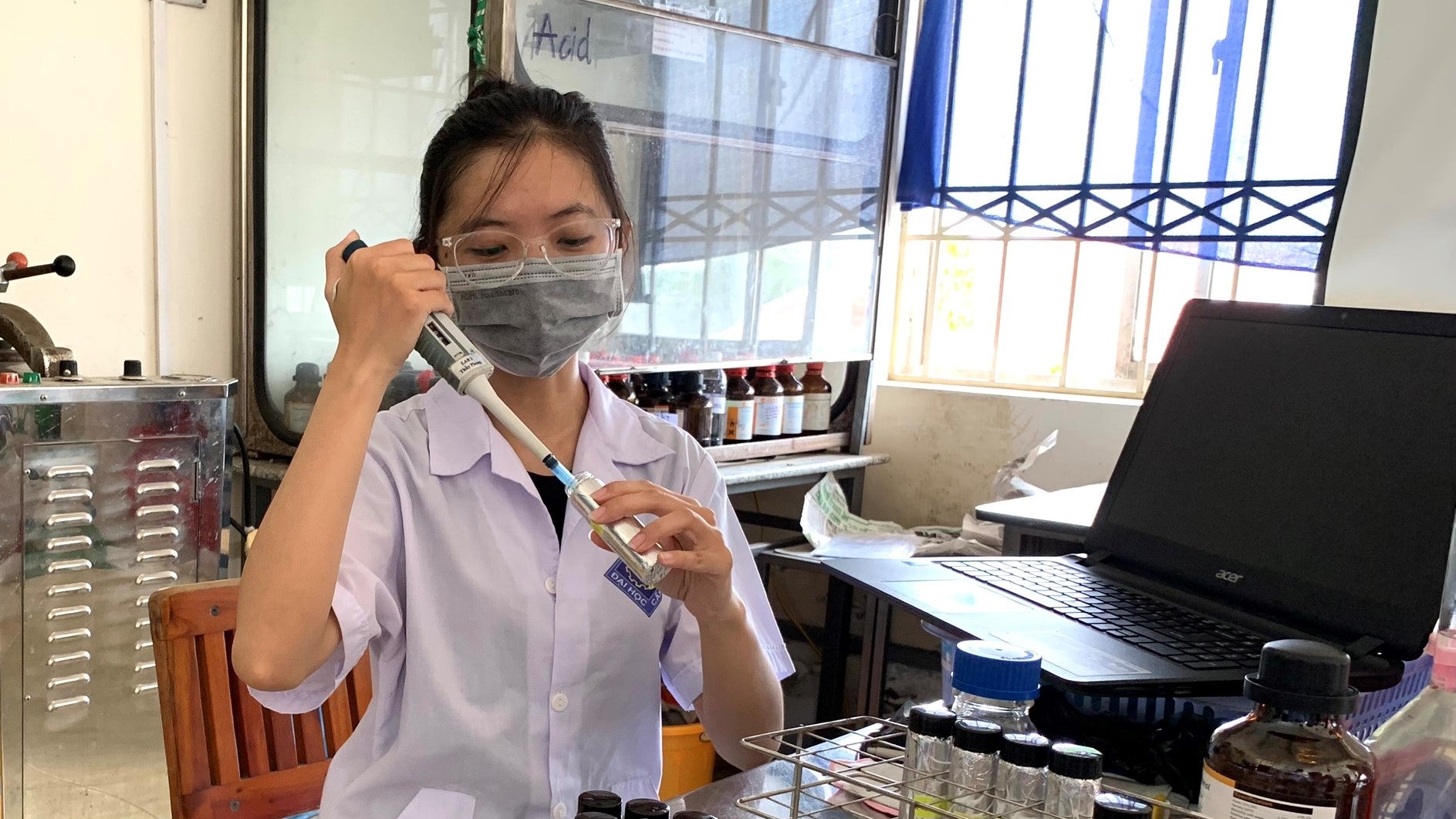 ---
This is Vuong Thi Ngoc Tuyet's journey from a shy first-generation university woman to a confident chemical engineer. Tuyet grew up in the Mekong Delta's largest city, Can Tho. Throughout her childhood, she had an energetic curiosity for science. Raised in a family where women only graduated high school, she had to convince her skeptical parents to let her join Can Tho University's challenging chemical engineering program.
"No woman in my family had a chance to go to university. I wanted to do something different. I wanted to change peoples' perceptions about women in STEM. That was how I convinced my parents to let me attend university."
As a first-generation student and one of four female students in her cohort, Tuyet was intimidated by her new school. "When I first joined the university, I was shy and lost. As a minority, I didn't speak up or voice my opinions - even when I needed something," she remembered. Tuyet's mentors encouraged her to join the Engineering Projects in Community Service program (EPICS), an award-winning social entrepreneurship program supported by USAID, Arizona State University, and Dow Vietnam.
Tuyet was inspired to join EPICS because the program's 30% women enrollment minimum and emphasis on community-driven innovation made her feel welcome and her work feel meaningful. During EPICS, Tuyet met many like-minded, talented young women. She worked in teams with other undergraduate students to design, build, and deploy solutions to solve problems in their community. In her first year, Tuyet and two other young women invented a candy made of rice bran to help diabetic patients manage their diets. She designed this candy to inspire her diabetic mother.
Then, she led a team to build a safe, high capacity, and easy-to-use roller pesticide sprayer for farmers to roll through orchards instead of carrying on their backs. This invention won the team the first prize at the nation-wide EPICS Final Showcase. Tuyet's family was thrilled to see her win the top award in engineering. They now trusted that a STEM education would guide their daughter to success. Tuyet's journey even inspired her younger sister to join STEM courses. "I am not as good a student as my sister. So I am a little nervous about joining a STEM course. But Tuyet is encouraging. Even now, she is asking me to join EPICS next year," Tuyet's sister said.
Tuyet draws on her experiences as a woman to develop her team's innovations, "I can draw inspiration from being a woman. I can set my mind to solve the problems that women are facing every day." Tuyet will soon graduate from Can Tho University and pursue a career in sustainable fuel.
"My dream is to work as an engineer at an oil and gas company, but I heard they only hire women for office work. I will apply anyway. I am ready to show everyone that I can do anything my male colleagues can."
USAID BUILD-IT, Arizona State University, and Dow Vietnam support Tuyet and all EPICS students' to apply their engineering know-how for social good. The USAID BUILD-IT Alliance is mission-driven to support top universities, like Can Tho University, to integrate project-based learning into their curricula. Arizona State University leads the Alliance and manages EPICS in Vietnam. To date, Dow Vietnam contributed over $140,000 to support more than 1,000 student project-based learning opportunities. In 2021, Can Tho University will become one of Vietnam's first universities to integrate EPICS as a course. Thanks to Tuyet and her peer's hard work, Vietnamese young people can see that having a woman on an engineering team is an asset and a force for good in their communities and across the country.