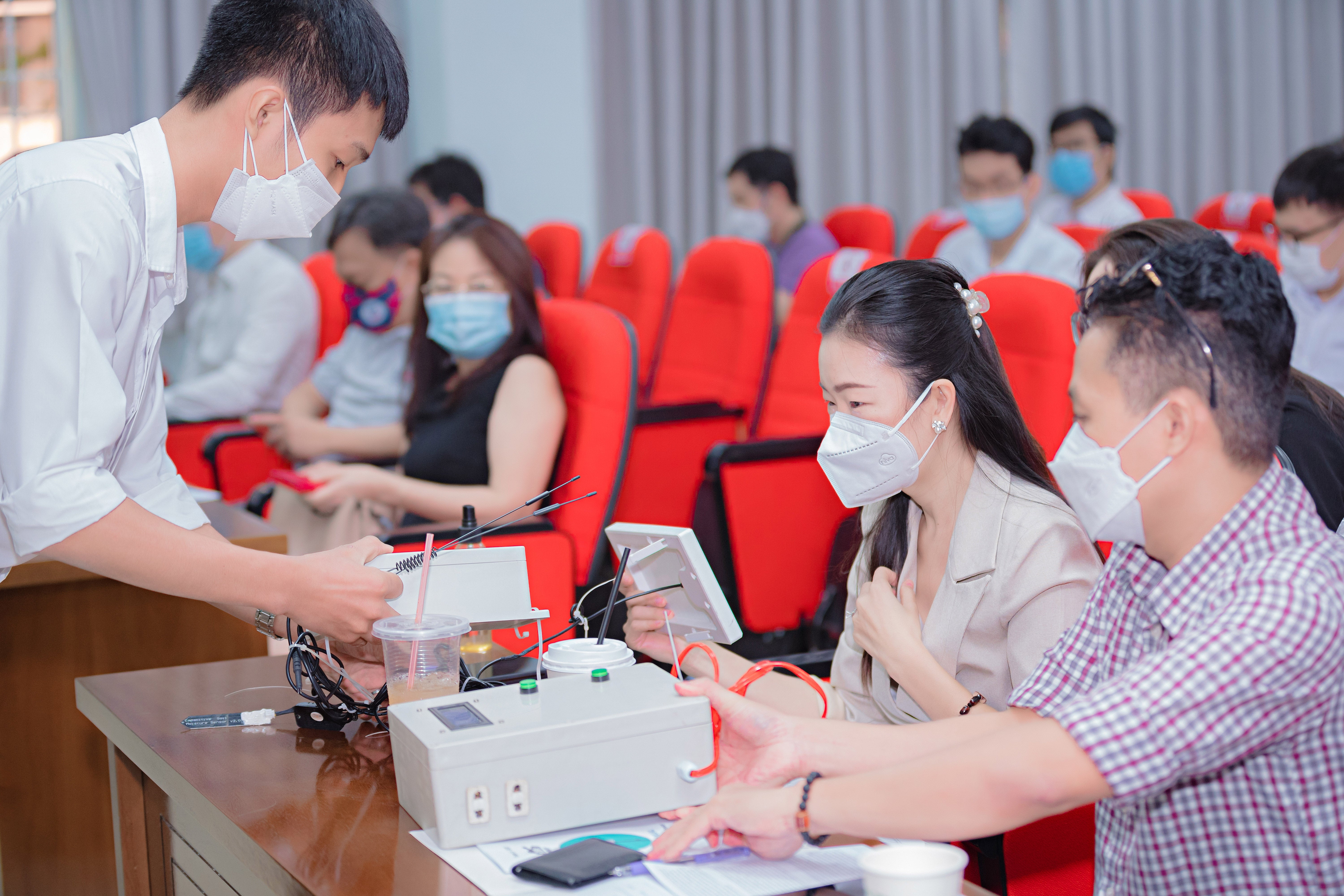 On March 11, 2022, USAID BUILD-IT and the Dow Vietnam STEM Program hosted their 3rd annual investor-style pitch competition, Maker to Entrepreneur (MEP): Venture Demo Day, for over 100 engineering students and guests from across Vietnam. Young engineers gathered to compete for a total of $1,000 in start-up funding. The business savvy demonstrated by the students exemplified how engineers can use market forces to scale their innovative projects into in demand products.
The 13 competing teams developed their innovative projects through the EPICS program. Carrying their innovations onto the Maker to Entrepreneur program, the teams advanced their EPICS projects into viable products and shared their early market traction at Venture Demo Day. During Venture Demo Day, a panel of industry judges from Dow Vietnam, Saigon Hi-Tech Park Incubation Center, 25 Inc., and Zone Startups Vietnam scored the students on their evidence of demand, professionalism, teamwork, and pitch delivery.
For the third year in a row, the United States Agency for International Development's (USAID) Building University-Industry Learning and Development through Innovation and Technology (BUILD-IT) Alliance, implemented by Arizona State University, partnered with the Dow Vietnam STEM Program have joined forces to bring industry-linked applied projects in innovation, entrepreneurship, and research to undergraduates across Vietnam.
A panel of industry judges from Dow Vietnam, Saigon Hi-Tech Park Incubation Center, 25 Inc. and Zone Startups Vietnam scored the students on their product's market demand. The judges were impressed by the customer feedback, evidence of demand, and perseverance demonstrated by the students in completing a majority of the program virtually.
Farmer management system (FMS), the highly praised creativity of 5 students from Can Tho university, won the first prize. The project was greatly appreciated by the judge panel for its practicality and mass applicability. Nguyen Dai Nghia (21-year-old) – third-year student, major in mechatronic engineering, research team leader – shared FMS included a set of equipment which could automatically adjust the irrigation system remotely. While most famers ran their farming-control system manually, FMS offered an alternative solution with a system that could be ran remotely via mobile phone. The system also integrated solar power battery panels which can provide additional, eco-friendly electricity alongside the normal source. Moreover, sensors were added to measure the water and soil quality. With this, users would automatically be notified when water and soil needed to be replaced.
After 1 year of searching and developing, FMS had got some first clients in the Mekong Delta. During MEP, several investors also offered to contribute capital to the project.
The second and third prize went to the team from Lac Hong University and another team from Can Tho University for their Environment Recycle and Mango Bagging Tools, a specialized tool to support mango farmers, respectively.
The USAID BUILD-IT Alliance is a public-private partnership founded to support world-class engineering programs for work-ready graduates in Vietnam. Mr. Alex Tatsis - Acting Deputy Principal Officer, from the US Consulate General Ho Chi Minh City, shared "Science, technology and engineering are essential to the continued socio-economic development of Vietnam.  And programs like this are nurturing brilliant young talents and pushing engineering education beyond theory-based learning by having students create something new and then bringing that creation to the market."