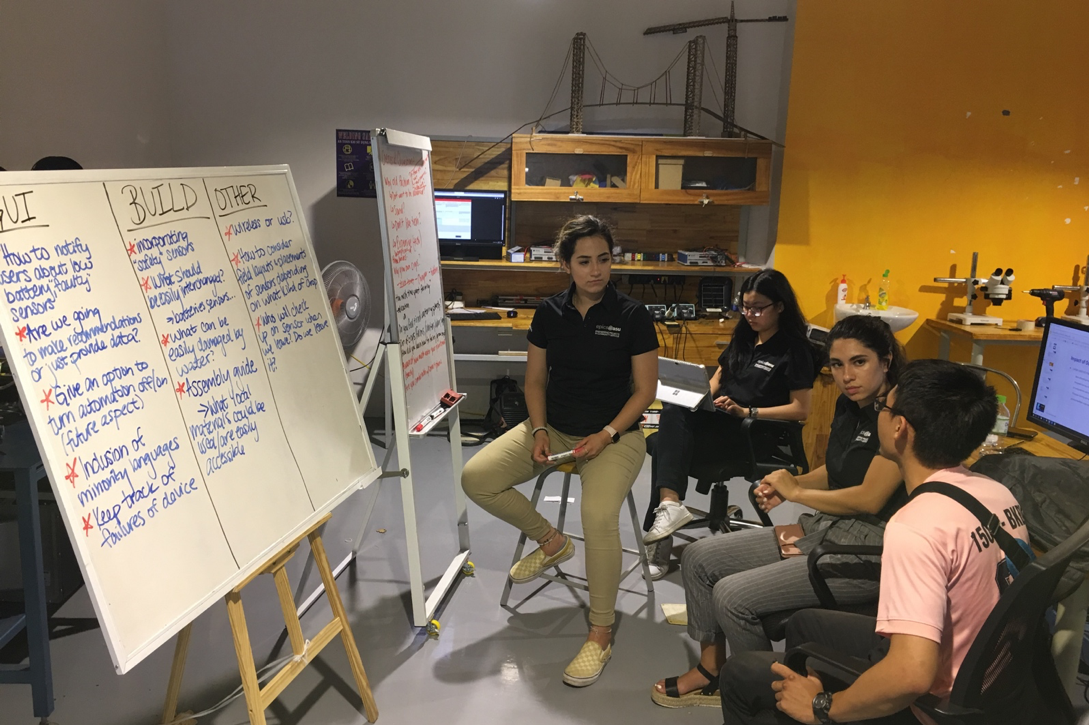 Engineering students: Is your dream for after graduation to use your know-how to solve global issues with opportunities like Engineers Without Borders or Habitat for Humanity? With Global EPICS, an engineering-based study abroad opportunity, you don't have to wait to get out there.
Launched in May 2019 in Da Nang, Vietnam, 20 engineering students joined Global EPICS to collaborate with Vietnamese engineering students and Tra Que Vegetable Village - a sustainable farming organization in Da Nang, to co-develop anenvironmental sensor platform that includes a soil humidity sensor that provides local farmers with additional data to make important decisions about their crops. Onceput into practice,this collaborative innovation will increase agricultural efficiency and promote sustainable farming through locally-conceptualized smart-farming technology.
Preparation is critical for any international project to be successful. Throughout the spring semester, the Global EPICS team worked remotely with Vietnamese students and faculty to identify water management as their challenge for student-led innovation and sketched out a basic concept for the humidity sensor and platform. Once on the ground in Vietnam, the team kicked off their week with an international design review led by Vietnamese academics and industry stakeholders. Then the team worked long days at the ASU-supported Maker Innovation Space in the Da Nang to incorporate the local feedback into their design, build a prototype sensor, and test it live. 
The intensive week culminated with a live-test at the Tra Que Vegetable Village. By testing their sensor in Vietnam, the team gathered vital local feedback for further development during Fall 2019.
Karryn Baca, Aerospace Engineer Class of 2021, shared that, "Perseverance is key. This project was a huge learning curve for a lot of us, but it was amazing to see us all persevere and step up to the plate, whether it was learning a new programming language or new computer program or working with new devices. It goes to show that despite any difficulty or delay, with perseverance, we were able to accomplish the main goal we were working towards."
After an exhuasting week of real-world engineering Tommy Montero, Aerospace Engineering, Class of 2021, "Working with the Vietnamese students is extremely helpful, especially when working with their equipment in the makerspace. The real world is different than theoretical and lab, so sometimes things that should work don't and sometimes the solutions don't seem logical at first."  
"The value received from implementing the project in Vietnam is invaluable, it not only connected our designs to the material landscape but also with the people that will be interacting with the device everyday. It allowed us to get a sense of the necessity for agricultural innovations required in this era to maintain diminishing food sources and water scarcity. My biggest takeaway was that more goes into a project than mechanics and engineering, it also includes real people whose opinions should not be overlooked," Merin Jacob, Computer Science, Class of 2021, added.
Global EPICS exemplifies ASU's mission to offer students real-world community service projects that collaboratively build for a better world. As engineering careers are ever more globally integrated lived-experiences collaborating outside your time zone and comfort zone are critical to developing a students' confidence and capacity to build working teams and solutions within our global communities. 
Joshua Loughman, Director of EPICS, summarized the experience, 
"EPICS is an opportunitity for students to really engage in their learning - it is a program that fuses both the technical design training with empathy, ethics, and generating positive outcomes for the community, both local and global. Students can really customize their experience at ASU by working on projects that address some of the most challenging community issues we face. The experiential value of working for the past year and then getting to see how the project can work in the community is priceless."
Learn more about EPICS in Vietnam, and subscribe to our exclusive email list to receive future updates about applying for the award.