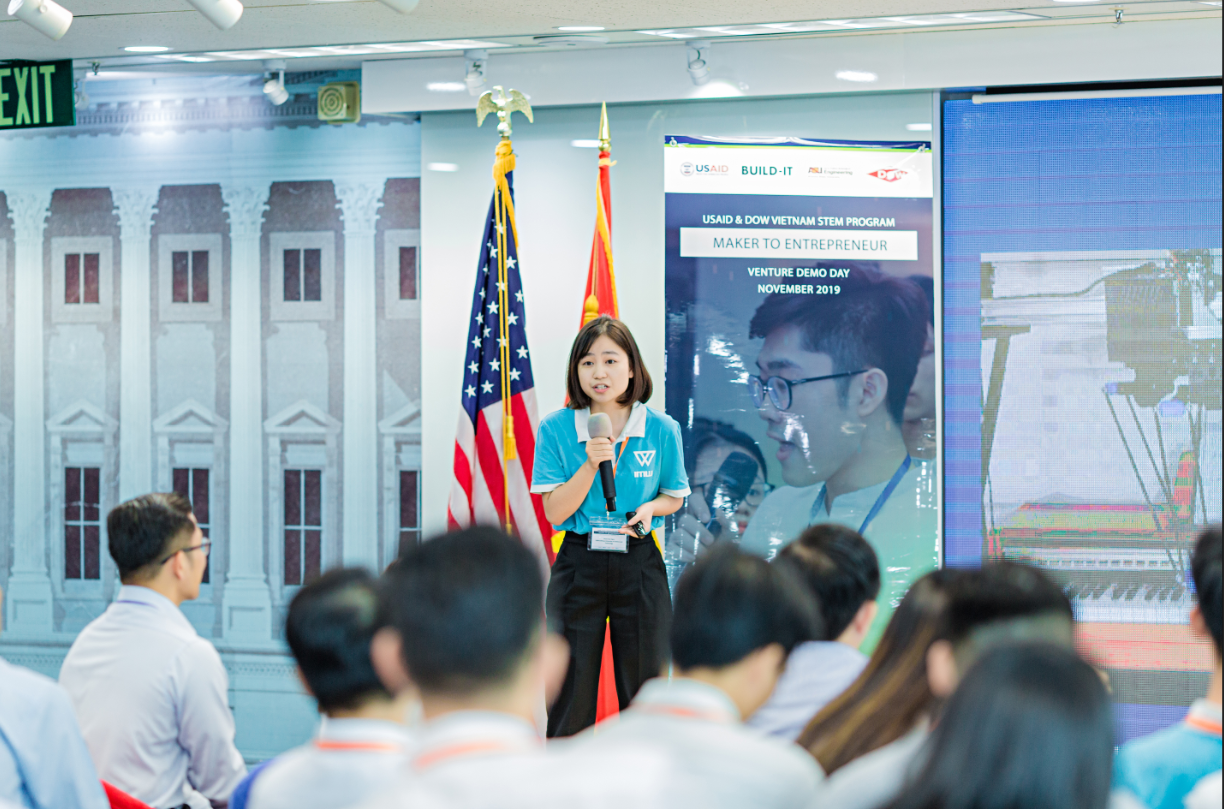 USAID BUILD-IT and the Dow Vietnam STEM Program hosted an investor-style pitch competition for over 60 engineering students from across Vietnam. The young engineers gathered at the American Center to compete for a total of $1,000 in start-up funding at the Maker to Entrepreneur (MEP): Venture Demo Day. The business-savvy demonstrated by the students exemplified how engineers can use market forces to scale their innovative projects into in-demand products.
During Venture Demo Day a panel of four industry judges scored the students' on the quality of evidence that supports their product's real-world demand. Teams from Ho Chi Minh City University of Technology, Da Nang University of Technology, and Lac Hong University won 1st, 2nd and 3rd place respectively. The 1st place winner developed an elder care product that can warm an elderly person's foot and improve their blood circulation. Da Nang University of Technology took home 2nd place with a multi-purpose robot, and Lac Hong University won third place with a fertilizer that the students are already selling at trade shows. The judges were impressed by the customer feedback, evidence of sales, and professional English presented in during the students' pitch. The MEP program is one of several applied project programs supported by the Dow Vietnam STEM Program.  The Dow Vietnam STEM Program inspires students to use innovation and entrepreneurship to support sustainable community development. Through practical education and a strong awareness of sustainable development, the STEM Program helps young inventors commercialize and scale their innovations.
The 11 teams competing at Venture Demo Day developed their innovative engineering projects during the Engineering Projects in Community Service (EPICS) program held in early 2019. During Summer 2019, Arizona State University faculty trained over 30 Vietnamese engineering faculty to develop entrepreneurship lessons tailored to young engineers. The Vietnamese faculty then mentored leading EPICS teams to advance their engineering projects into variable products and pitch their products at Venture Demo Day. The Maker to Entrepreneur Program gave both engineering faculty and their students the capacity to bridge the divide between engineering and business education. MEP's cross-disciplinary workshops transformed the young engineers into young entrepreneurs.
For the third year in a row, the United States Agency for International Development's (USAID) Building University-Industry Learning and Development through Innovation and Technology (BUILD-IT) Alliance, implemented by Arizona State University, partnered with the Dow Vietnam STEM Program to support student-led innovation and service-learning at Vietnamese universities. The Dow Vietnam STEM program's sponsorship provided funding for students' product development, faculty support, and industry-based mentoring to ensure that MEP students developed the skillset and self-confidence needed to be entrepreneurs. The Dow Vietnam STEM Program is committed to running a 2nd round of MEP in the spring semester to continue turning makers into entrepreneurs.