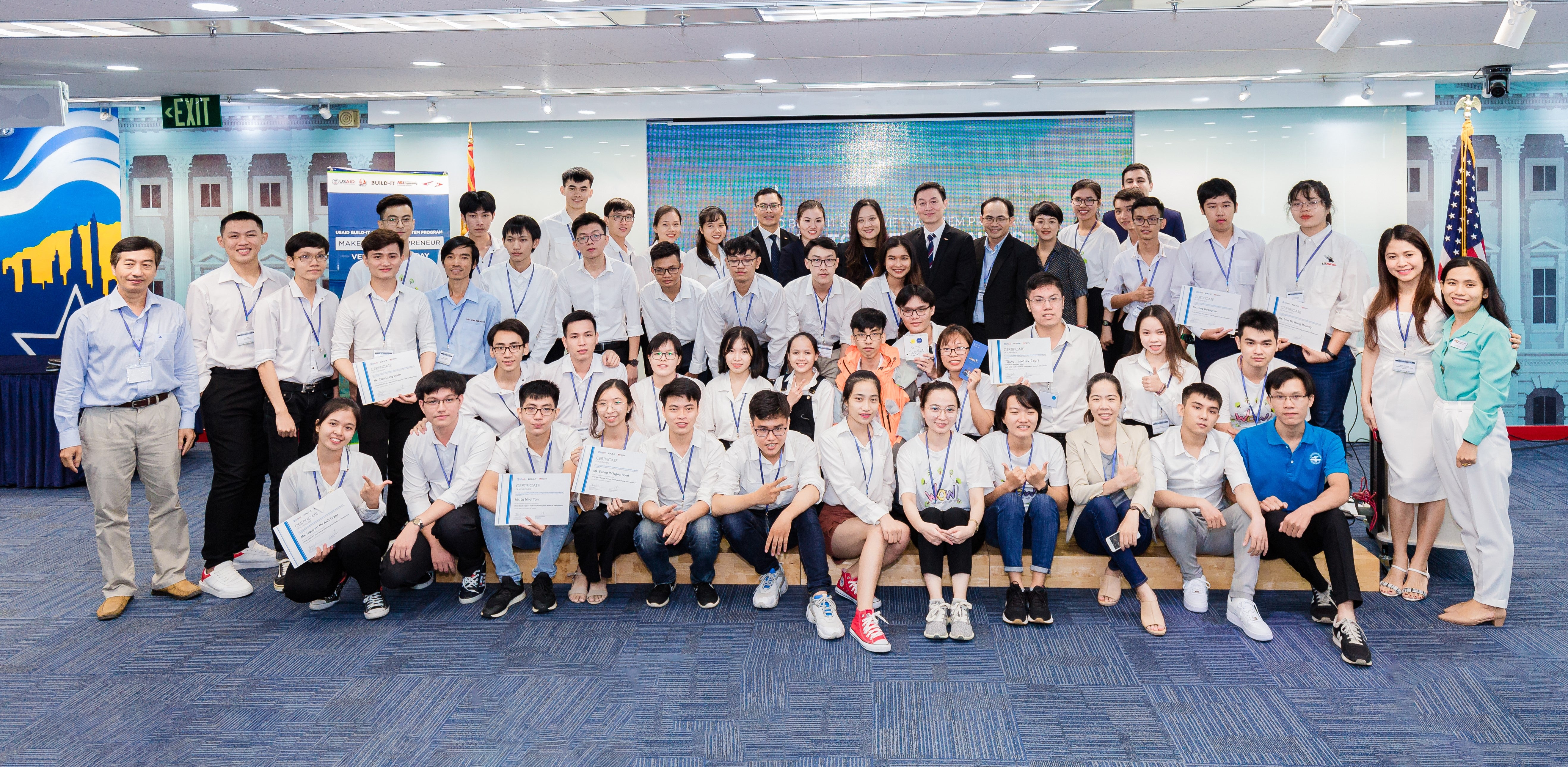 The United States Agency for International Development (USAID) Building University-Industry Learning and Development through Innovation and Technology (BUILD-IT) Alliance, Arizona State University (ASU) and the Dow Vietnam STEM Program launched the Engineering Projects in Community Service (EPICS) program in Vietnam in January 2018. The EPICS program is an internationally recognized multi-disciplinary social entrepreneurship challenge for STEM student teams to collaboratively brainstorm, design, prototype, and test their engineering-based solutions to local challenges.
On June 22, 2020, USAID BUILD-IT and the Dow Vietnam STEM Program hosted their 2nd annual investor-style pitch competition, Maker to Entrepreneur: Venture Demo Day, for over 40 engineering students and guests from across Vietnam. Young engineers gathered at the American Center in Ho Chi Minh City to compete for a total of $1,000 in start-up funding.
The nine competing teams developed their innovative projects during the 2019 EPICS program. Carrying their innovations onto the Maker to Entrepreneur program, the teams advanced their EPICS projects into viable products and shared their early market traction at Venture Demo Day. The students demonstrated how engineers can learn to use market forces to prove that their early-stage products have market demand.
"There is a close connection between being an engineer and being an entrepreneur. Success in the Fourth Industrial Revolution industries comes from a combination of those two skill sets. It is entrepreneurship that enables the world to benefit from an engineer's innovations," said U.S. Ambassador to Vietnam Daniel J. Kritenbrink.
During Venture Demo Day a panel of industry judges from Dow Vietnam and Saigon Hi-Tech Park scored the students on their product's market demand. The judges were impressed by the customer feedback, evidence of demand, and perseverance demonstrated by the students in completing a majority of the program virtually.
Teams from Da Nang University of Technology, Can Tho University and Ho Chi Minh University of Technology took home top three prices for prototypes in smart life jacket, pesticide spraying wagon and smart recycling bin.
For the third consecutive year, USAID BUILD-IT, Dow Vietnam, and Saigon Hi-Tech Park have joined forces to bring industry-linked applied projects in innovation, entrepreneurship, and research to undergraduates across Vietnam.  Dow Vietnam alone has contributed over $100,000 to provide more than 700 opportunities to students to gain the confidence and capacity to lead engineering and social innovations in their communities. 
"As an organization committed to solving global challenges, we are proud to encourage Vietnamese students to solve their local community's challenges by creating business opportunities. By encouraging the spirit of entrepreneurship, our students maximize their value creation and can pursue further start-up investments," said Mr. Ekkasit Lakkanananithiphan, Dow Vietnam's General Director.
The USAID BUILD-IT Alliance is a public-private partnership founded to support world-class engineering programs for work-ready graduates in Vietnam.  Implemented by Arizona State University, the Alliance has over 16 industry partners and 11 Vietnamese university partners.  BUILD-IT has leveraged over $6 million dollars in industry contributions to support its university partners to revamp their curricula, adopt new learning technologies and projects, further develop their teaching and leadership capacity, and achieve international accreditation. These transformations assure that Vietnamese graduates develop both the technical and soft skills needed to drive Vietnam's growth for decades to come.