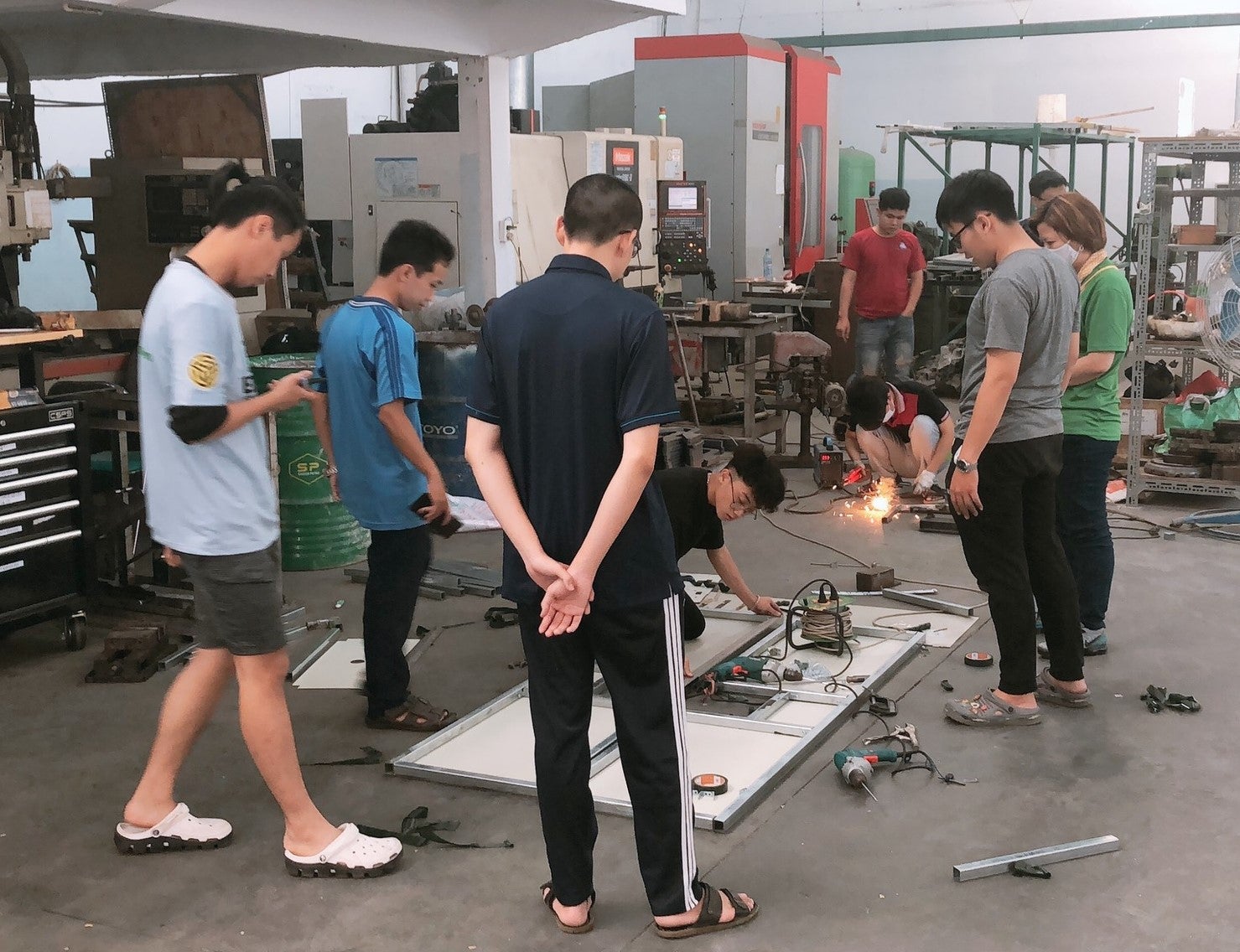 As Vietnam braced for another wave of COVID-19, eight first-year students from the Ho Chi Minh City University of Technology met with Dr. Vo Thi Thanh Hang, their project mentor, in a busy campus metal shop. With the COVID-19 cases spreading throughout the city, the team decided to focus their BK Innovation Competition entry on designing a new device to stop COVID-19 from getting into their campus.
The multi-disciplinary team of young men and women spent two weeks coding, building, and testing a smart camera that screens students' body temperature, mask compliance, and offers hand sanitizer to slow the spread of COVID-19. Their inspiring efforts showed their classmates that even first-year students could act up to fend off the pandemic. Within a week of piloting their device at their school gate, the national news featured them on TV to uplift a worried nation. Since their television debut, the university's youth union asked the team to build more devices to outfit their meeting halls and campus entry points.
Though the students imagined and built the device themselves, their creative process was guided by their mentor - Dr. Hang. When Dr. Hang first joined HCMUT in 2012, she had a strong background in research but was unfamiliar with active STEM teaching pedagogies. However, after completing BUILD-IT's applied projects and soft skills teaching workshops, she honed her design facilitation skills by leading BUILD-IT's applied project models (Engineering Projects in Community Service, eProjects, and the Undergraduate Research Initiative) at HCMUT.
Dr. Hang then joined the BK Innovation engineering competition organizing committee at HCMUT. Inspired by BUILD-IT, Hang and her colleagues guided BK Innovation from a small program into HCMUT's premier campus-wide industry-sponsored design innovation competition. Dr. Hang wholeheartedly mentors her students to strive to create ingenious innovations. In 2020 alone, she mentored the teams that won BK Innovation and the VNU Intellectual Property Competition. She and her colleagues are working towards integrating a series of project-based learning programs into the curriculum at HCMUT that will see students building throughout their academic program. Dr. Hang's commitment illustrates that dedicated women in STEM bring technical expertise and powerful charisma that inspires all students to engineer for a brighter tomorrow.