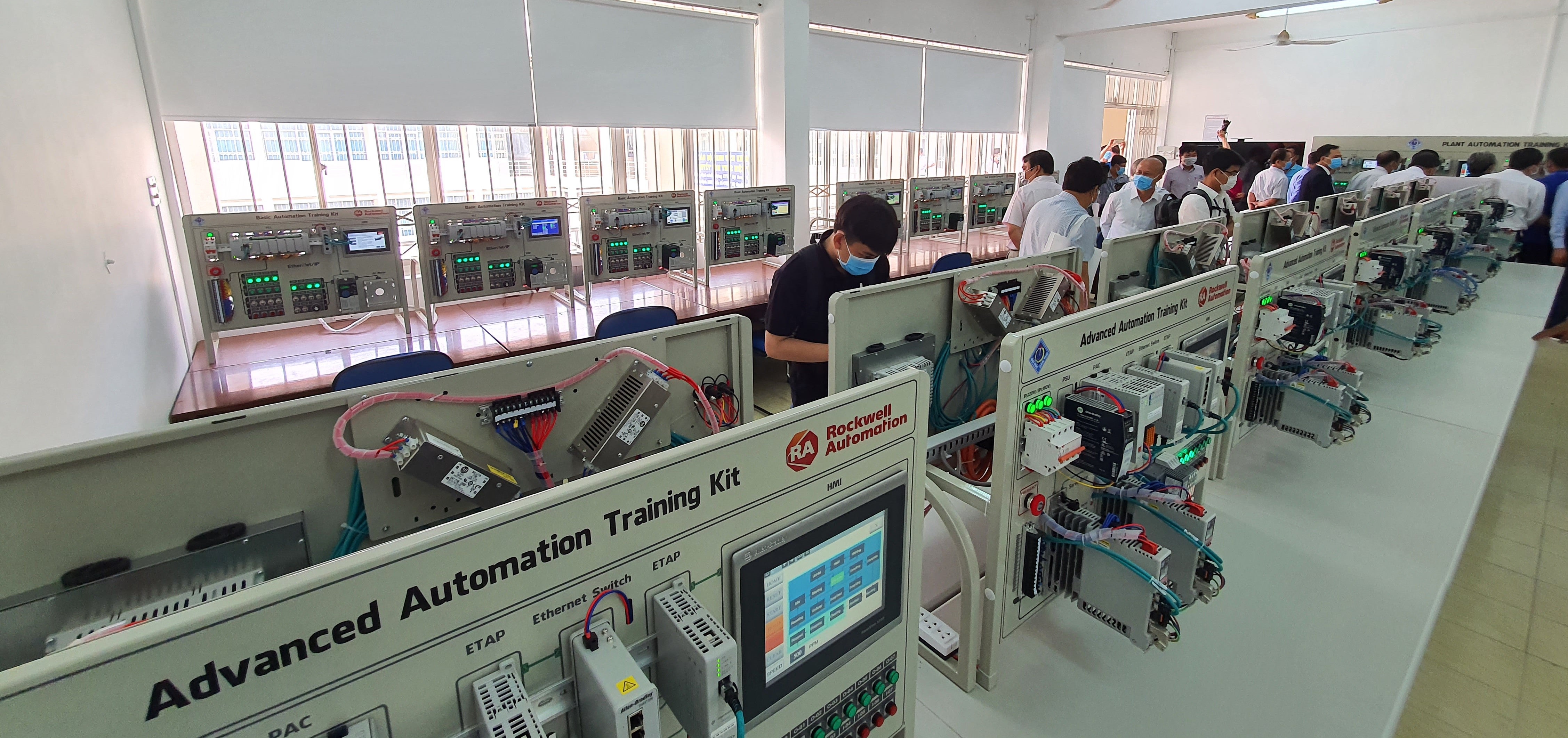 This shared-value investment demonstrates how the USAID BUILD-IT Alliance members synergize university-industry partnerships
Continuing their shared mission to advance Vietnamese higher engineering education, Rockwell Automation, an American automation technology provider, and Can Tho University opened the Mekong Delta's most advanced Rockwell Automation lab in December. The shared-value partnership at the center of this investment demonstrates how the USAID BUILD-IT Alliance members synergize industry assets and university expertise to offer students learning resources that prepare them for the highly collaborative automation careers emerging in the Mekong Delta.
"This is an exemplary public-private partnership developed through the BUILD-IT Alliance, said Jeffrey Goss, Associate Vice Provost, Southeast Asia for Arizona State University, implementing partner for BUILD-IT. "Now students can engage in applied hands-on learning activities that support work-readiness."
Rockwell Automation's technologies are critical assets for US manufacturers operating in Vietnam. The broader adoption of Rockwell technologies better prepares Can Tho University graduates to automate solutions on US systems. As the Delta's aquaculture, agriculture, and food processing sectors go hi-tech, the region's industries look to Can Tho University to train skilled graduates ready to leverage advanced systems to solve their complex challenges.
Opened to much fanfare, the lab features twenty basic, nineteen advanced, and an experimental plant-control model that allows students to master ever more advanced technologies. Encouraged through the USAID BUILD-IT Alliance, Rockwell Automation and CTU leaders agreed to invest over $300,000 in hi-tech lab equipment and facilities.
Reflecting on transformations in automation engineering education, Mr. Le Van Hai, Rockwell Automation's General Director, shared, "With the opening of this lab, we are delighted to see the rise of a pioneering generation of young engineers embracing digital transformations and smart manufacturing technologies."
With the new lab up and running, USAID BUILD-IT is offering CTU faculty coaching to integrate the lab into their curriculum ahead of international accreditation reviews and partner with the university to tailor lab manuals to fit each programs' learning outcomes. With the Alliance's collaborative model bearing fruit in the Mekong Delta, Rockwell Automation and USAID BUILD-IT will continue to couple equipment, expertise, and coaching to help students leverage the latest US systems to solve ever more complex challenges.