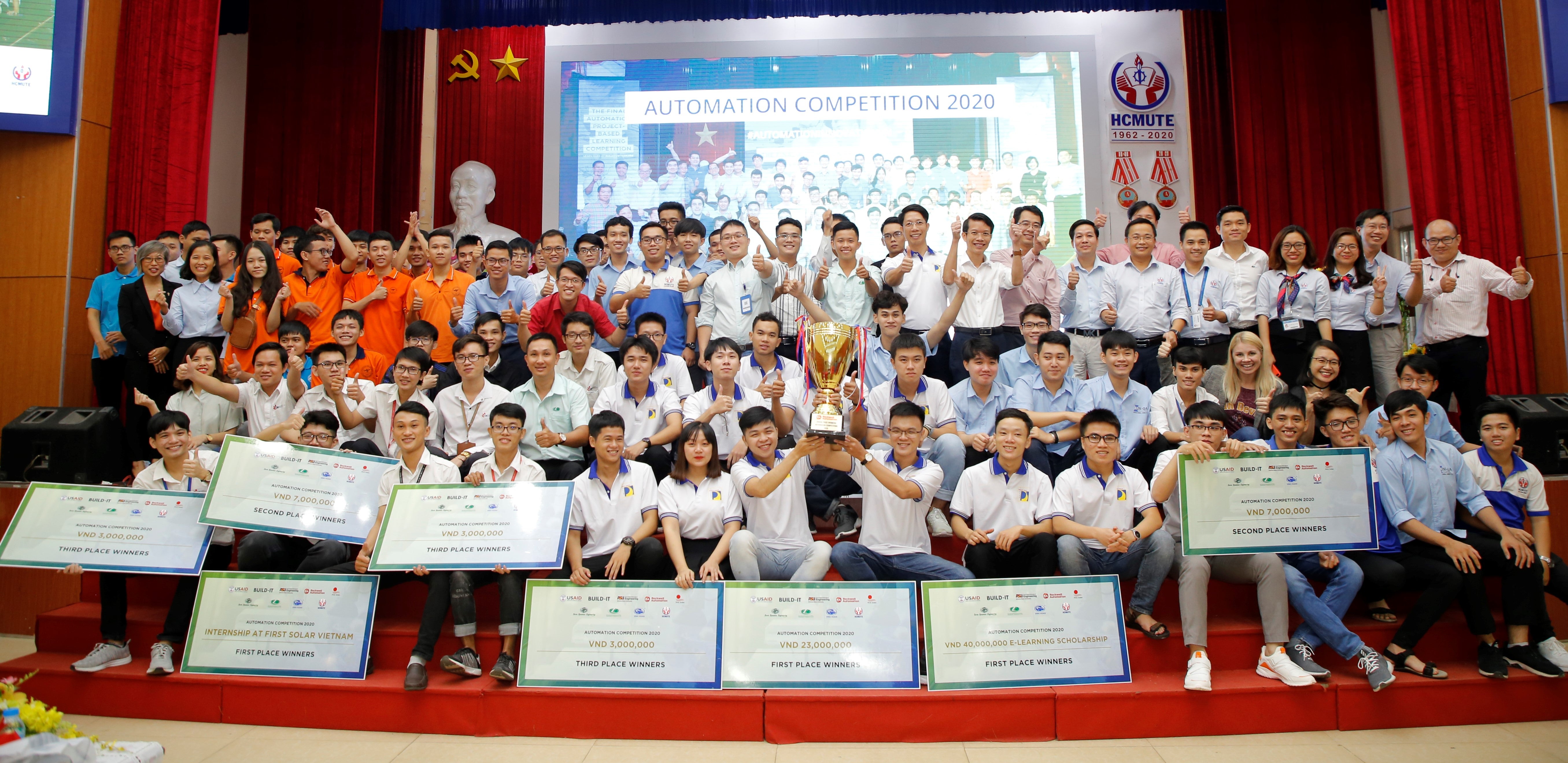 Our second Automation Competition demonstrates how the synergy between industry and university turns students into young engineers – ready to solve today's automation challenges
The Automation Competition 2020 was held at the Ho Chi Minh City University of Technology and Education (HCMUTE) on October 9, 2020, marking its second appearance after the success of last year's event. With an aim to nurture the highly-skilled human resource for the automation industry in Vietnam, USAID BUILD-IT, Rockwell Automation, First Solar and a growing consortium of educational and industrial partners have provided support and training for over 50 students from five technology-focused universities during the competition.
The Automation Competition 2020 witnessed 30 student pairs from five universities competing to design control program, perform the assigned tasks on Rockwell Automation device kits that simulate basic to complex automation functions. A panel of professional judges ranked each team's innovation, teamwork, logical problem solving and task throughput. 
By surpassing their competitors, Nguyen Dac Quy and Nguyen Vo Khanh Toan from Da Nang University of Technology - Da Nang University won the competition's grand prize, including 02 fully-paid $500 Rockwell Advanced Online Courses, $500 educational electronic vouchers and a four-month professional internship supporting automation engineers at First Solar's solar panel factory in Ho Chi Minh City. 
During the four-month span of the competition, Rockwell Automation, BUILD-IT and university partners, and Industrial sponsors, First Solar, Servo Dynamics, Vinh Hoan, and Qui Long provided training kits, staff time, learning materials, to encourage students to master Rockwell Automation technologies; created motivation and encouraged faculty members to bring these advanced tools into their automation lessons. To be competitive and able to succeed in the current automation market, the graduates need both stronger technical competency and relevant soft skills, such as teamwork, critical thinking, problem-solving, and English. Sustained Industry-linked competitions synergize the expertise of industry leaders and the capacity of universities to shape Vietnam's next generation of engineers. 
"Having the profound experience in providing automation solutions to thousands of businesses around the world, Rockwell Automation is committed to sharing practical tools and advanced technology to help students build a well-rounded set of skills relating to industrial automation, contribute to the transformation of Smart Manufacturing & Process Industry in Vietnam," Mr. Le Van Hai, Country Manager for Rockwell Automation Vietnam.
Today competition marks a milestone in the competition's sustainability. Despite on and off social distancing, the faculty members remained committed to preparing their students for the competition. First piloted in 2019 by USAID BUILD-IT, implemented by Arizona State University, this year's 2020 round of the Automation Competition saw HCMUTE take a lead role in stakeholder, finance, and event management. HCMUTE's peer and industry connections can confidently sustain the competition into 2021 and beyond. Further university ownership and an ever-growing consortium of industry sponsors is a testament to the value this competition continues to offer to students and employers.
Congratulating BUILD-IT partners on their second Automation competition, Assistant Dean at the Ira A. Fulton Schools of Engineering at Arizona State University, Jeff Goss shared: "This year's competition demonstrates that synergy between industry and university turns students into young professionals - ready to solve real automation challenges".