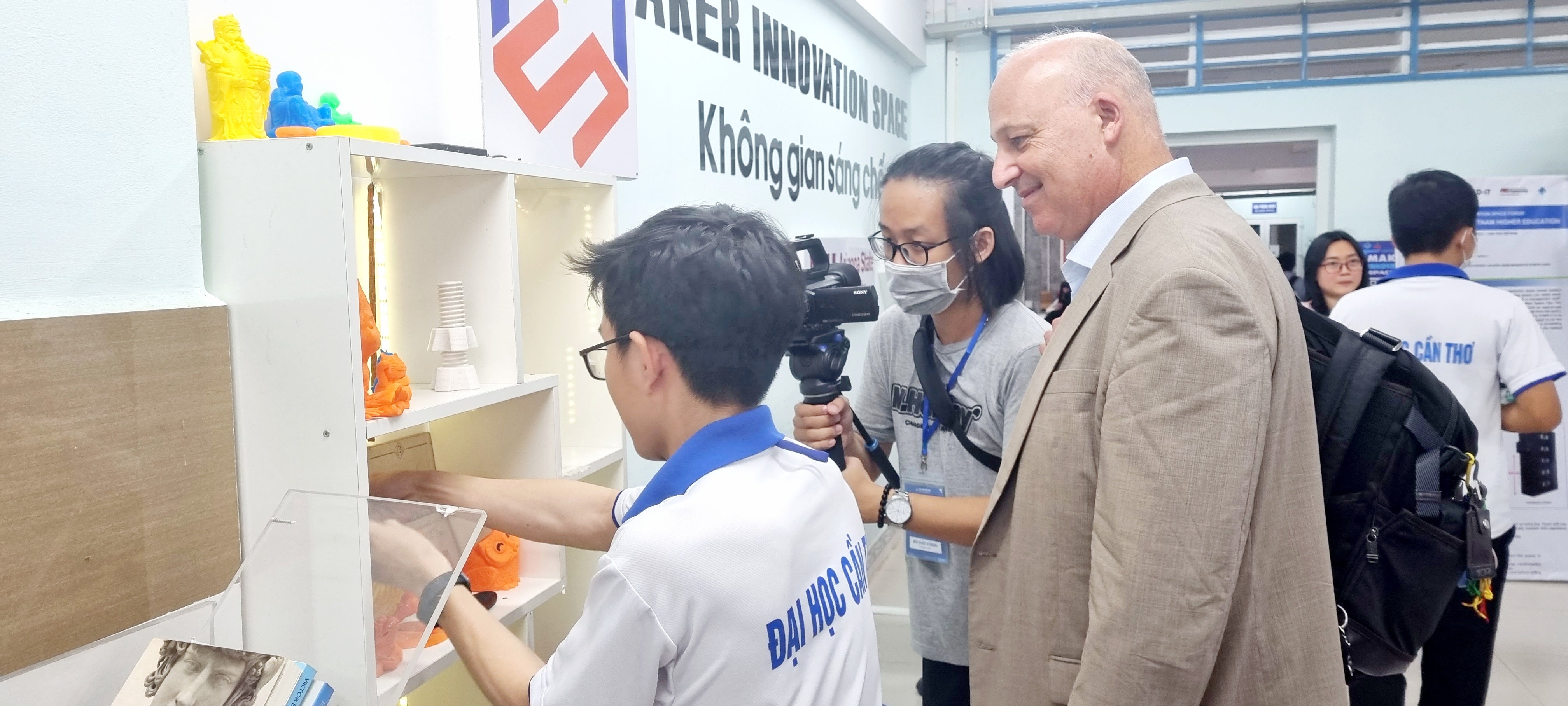 BUILD-IT's MIS Forum celebrates a thriving Maker Space Movement in the Mekong River Delta
On September 23rd, 2022, the highly successful BUILD IT and Can Tho University collaboration hosted the fourth forum in the six-part Playbook forum series. The Maker Innovation Space forum, commonly referred to as MIS, brings together experts in academia, industry, and government to explore the importance, as well as the success and the challenges of establishing and running the spaces. This forum also explored how to utilize all resources of the spaces themselves to support changing the ideas of the makers both in the universities and the startup community into prototype and final products. 
Mr. Matt McWhorter, Maker Innovation Design Lead at Arizona State University shared the value and potential the Maker Innovation Space provides the university. These revolutionary spaces inspired to build these student-centered, multi-functional spaces with the workshops and tools to prototype innovations. Mr. McWhorter explained to his audience that  makerspaces are a critical learning space for multi-disciplinary applied projects. Also, even though Vietnam's early adopters struggled to meaningfully connect their spaces with Vietnam's large public education system,USAID BUILD-IT mobilized its partners to push the maker movement into Vietnamese universities and incubation centers. 
Through the MIS, students, faculty, and startups in local community design, build and rebuild their ideas from prototype to final products to solve engineering-based problems for charities, schools, and other not-for-profit organizations. This is a place where they tackle real-world problems today.
Attending the forum, Mr. Mitch Kirby, USAID Senior Education Advisor said: "USAID BUILD-IT mobilized its partners to push the maker movement into Vietnamese universities and incubation centers. We supported the Saigon Hi-Tech Park (MIS SHTP), University of Da Nang (MIS UD), and Can Tho University (MIS CTU) to develop model Maker Innovation Spaces. BUILD-IT mentored makerspaces at Lac Hong University (LHU) and our academic partners. These partners constitute the Maker Innovation Network. This forum endeavors to bring these experiences and successes to an audience who can bring this transformative opportunity to their own institutions.
The tools and techniques BUILD-IT employs to prepare its partner universities for quality Maker Innovation Spaces are robust.  With support and guidance, our partner universities, through the MIS, have supported the students and startup community throughout Vietnam.  BUILD-IT's goal is to enable sustainability of quality MIS in the long-term, in part by increasing the access students and the community have to these maker innovation spaces
While benefits of the Maker Innovation Space program are clear and demonstrable in real time, the real value of this program is in its long-term support of higher education. To leverage seven years' worth of support the MIS, BUILD-IT created its Playbook Series to assist in sustaining the MIS movement long after the BUILD-IT program ends in 2023.  
The 2022 series of BUILD-IT forums celebrates key topics from this BUILD-IT playbook series, as prioritized by university partners. Topics in this playbook series include Institutional Accreditation, Project Based-Learning, Digital Immersion Learning, Program Accreditation (AUN-ABET), Industry Advisory Boards, Women in STEM, Maker Innovation Network, and Faculty Development and Active Learning, etc.