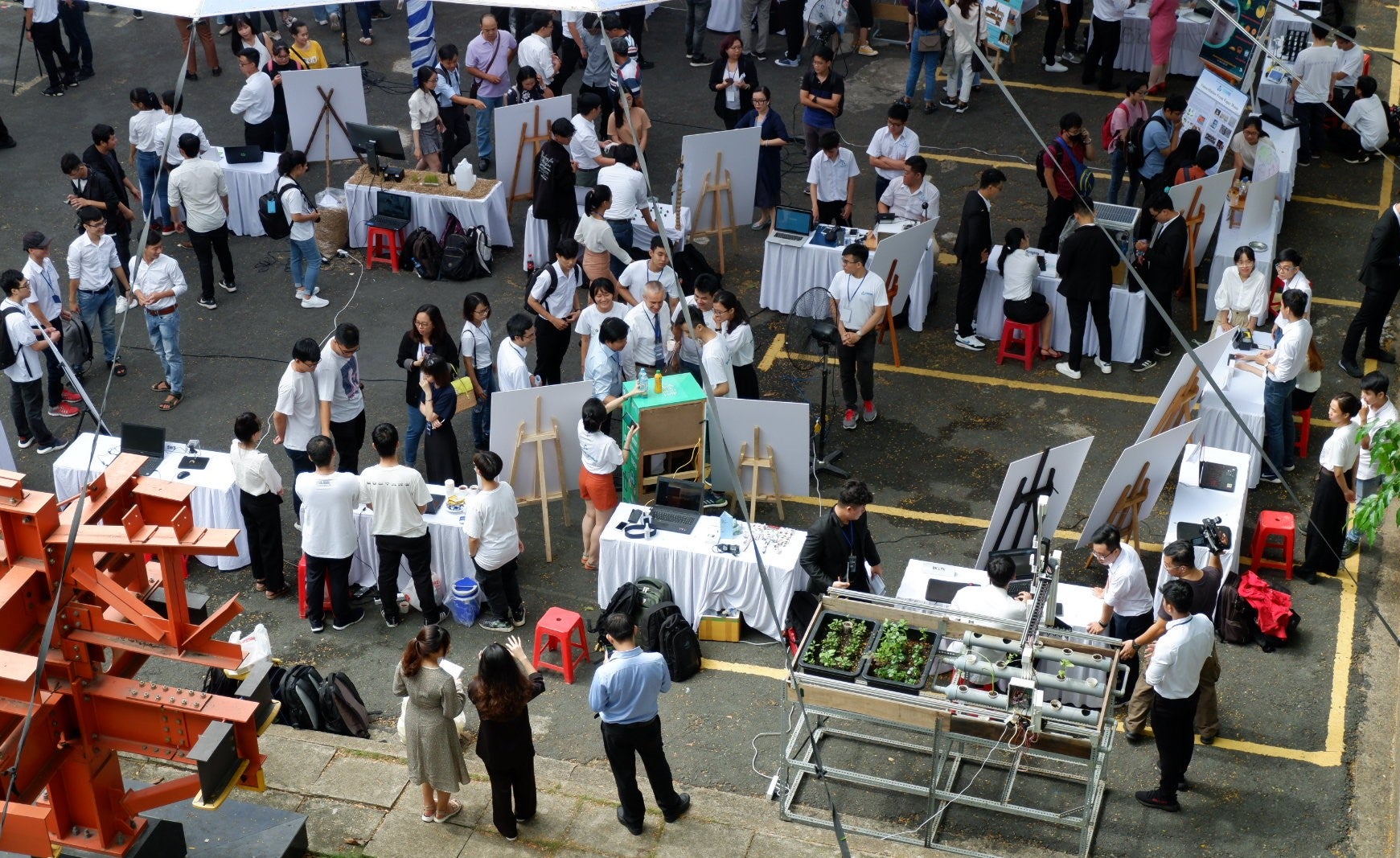 Universities across Vietnam are offering more and more applied project competitions. These competitions synergize student creativity, industry mentorship, and design innovation pedagogy to prototype solutions for social challenges. HCMUT's BK Innovation 2020 brought over 200 students through proposal development, design innovation, industry mentorship, and high stakes pitching. On June 28th, the top 20 of 52 initial teams competed for over $2,000 in start-up funding. BUILD-IT, which worked with HCMUT to center the competition on social impact, was thrilled to join HCMUT's third cohort of BK Innovation. This year's competition further proved that HCMUT is prepared to sustain student-led and industry-supported innovation programs for years to come.
Starting in March 2020, over 200 students clustered in 52 teams to develop unique innovations through the program's workshops and online mentoring sessions. Despite social distancing restrictions, the students were able to build working prototypes and collect meaningful user feedback. Come June's Final Round, 20 teams shared their work at an innovation showcase and pitching competition! Since BK Innovation adopted EPICS' human-centered design focus, students who grasped this learning philosophy during EPICS earned top marks in BK Innovation. Two student teams that previously developed their innovations in EPICS and MEP, won third and second place respectively. The first-place team, mentored by the HEAAP faculty who co-founded BK Innovation, wowed the audience with a portable air filter to fight the spread of COVID-19.
To celebrate all their achievements, the teams held a poster and prototyping showcase inspired by BUILD-IT's innovation showcases. During the early stages of BK Innovation 2020, BUILD-IT supported HCMUT to introduce human-centered design as a key criterion for the final project evaluation rubric. Additionally, BK Innovation included a number of applied project program aspects modeled to faculty through BUILD-IT; prototype showcasing, innovation workshops, pitching, industry sponsorship, rubric scoring, media promotions, and mentoring visits to Saigon Hi-Tech Park.
For the third consecutive year, HCMUT's programs are evolving towards comprehensive project-based learning. HCMUT's emphasis on project-based learning and their ongoing construction of a makerspace gives the students the motivation and tools required to make an impact. BK Innovation was a notable collaboration with industry partners TMA Solutions, Bosch, YKK, and TechK. As each cohort of BK Innovation progress, technical industries around HCMC further understand both the recruitment and R&D benefits of investing in higher engineering education. In the coming year, BUILD-IT will support HCMUT further develop BK Innovation's program management, partners, and pedagogy.