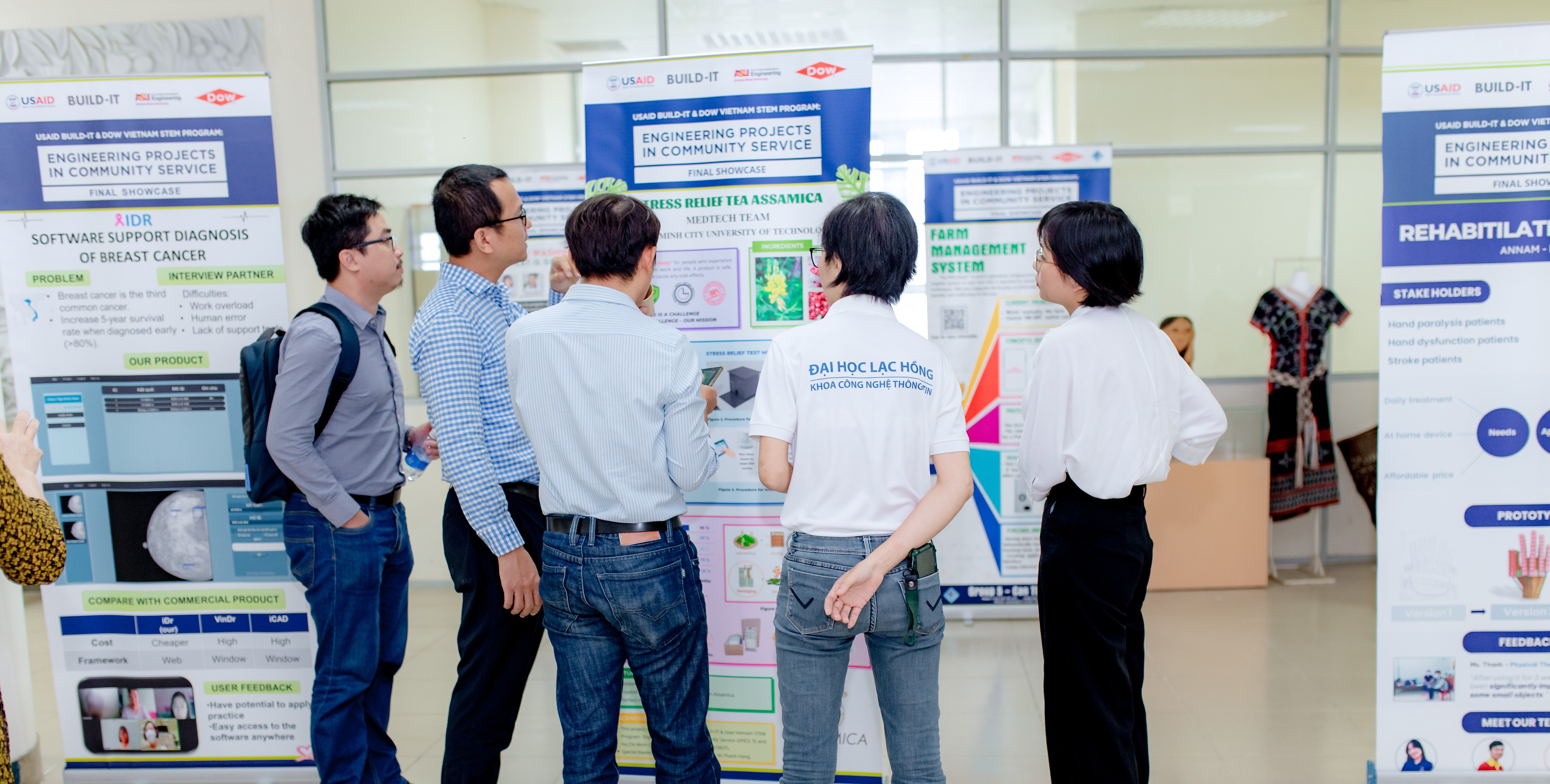 The EPICS Forum brought together experts in academia, government, and industry to celebrate those who are going to make the most impact in Vietnam's future … students
On August 5th, 2022, Dr. Jared Schoepf walked on stage at the University of Danang, Danang University of Technology and stood in front of an audience of faculty, students, administrators, leaders in industry and government officials. Looking around, he saw what he needed to see … people interested in the future of Vietnam. People with the desire, ambition, skill, knowledge, wisdom, and resources to contribute to the transformation of Vietnamese higher education, and as an extension, the communities they serve. 
For the past 5 years, BUILD-IT has been helping Vietnamese universities implement and conduct EPICS programs and challenges throughout Vietnam. Through this program, student-led teams design, build and deploy systems to solve engineering-based problems for charities, schools, and other not-for-profit organizations. These students aren't waiting to graduate to make a difference—they are tackling real-world problems today.
The tools and techniques BUILD-IT employs to prepare their partner universities for a quality EPICS program are robust. With support and guidance, faculty from our partner universities have supported student-led teams and provided guidance throughout EPICS competitions held throughout Vietnam.  BUILD-IT's goal is to enable sustainability of quality EPICS programs in the long-term, in part by increasing the access students have to these types of competitions.   
Dr. Schoepf explored EPICS with the audience, many of whom were less familiar with the value and potential of the EPICS program. He explained it. The audience learned that EPICS students get field experience designing, building, and rebuilding working prototypes. Students gain confidence, 21st Century skills, and real-world engineering experience, all before graduation. In 2017, BUILD-IT began modeling the EPICS program with six Vietnamese universities to expand their capacity to organize and operate innovative multi-disciplinary project-based learning programs.
The value of these competitions have been demonstrated by Vuong Thi Ngoc Tuyet, who grew up in Can Tho. Coming from a family where women didn't go to college, Tuyet studied Engineering at Can Tho University. "When I first joined the university, I was shy and lost. As a minority, I didn't speak up or voice my opinions — even when I needed something," she said. She was encouraged to join EPICS. As one of only a handful of female students studying engineering, she found like-minded, talented young women when she joined the EPICS program. Through this program, Tuyet and her team invented a candy made of rice bran to help diabetic patients manage their diets. In her second program, Tuyet and her team came in first place at the nationwide EPICS final showcase where she presented her high-capacity, easy-to-use rolling pesticide sprayer designed to ease the burden of farmers. 
EPICS has also been impactful at Lac Hong University. In 2021, a team of students won their EPICS competition with the creation of Automov, a device to convert manual wheelchairs into electric wheelchairs. Although there challenges and struggles in this student-led endeavor, EPICS is designed to provide support. In this case, EPICS faculty member, Dr. Van Dinh Vy Phuong, a lecture of information technology, was there to guide and facilitate their goals. 
While benefits of BUILD-IT's programs are obvious in real time, the real value of BUILD-IT is in its long-term support of higher education. To leverage seven years' worth of programs, workshops, seminars, and training sessions, BUILD-IT created its Playbook Series to assist in sustaining BUILD-IT's value long after the BUILD-IT program ends in 2023.