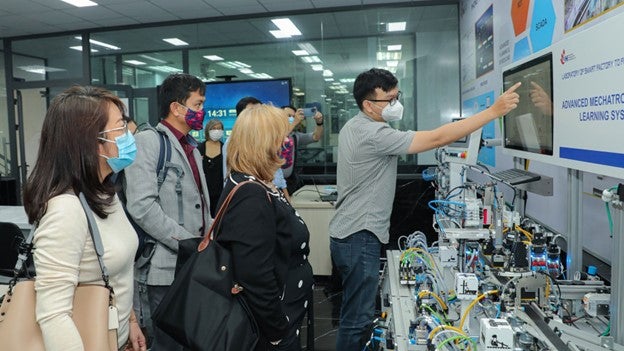 Quality education is essential for individuals, institutions, and industry to succeed. Universities value industry input to help train engineering students for roles after graduation, and technology companies need workers whose degrees have prepared them to take on 21st-century challenges.
The Accreditation Board for Engineering and Technology, or ABET, ensures that science, engineering, computing and technology associate's, bachelor's and master's degree programs around the world meet quality standards and prepare graduates for their professional careers.
While ABET accreditation is all but required for U.S. universities to be competitive, it is a new priority in Vietnam, where the Ira A. Fulton Schools of Engineering at Arizona State University has extensive educational collaborations through the U.S. Agency for International Development-sponsored Building University-Industry Learning and Development through Innovation and Technology, or BUILD-IT, program.
"Our work through the USAID BUILD-IT project has helped our academic, industry and government partners advance social and economic development in Vietnam through collective leadership and investment in building regionally and internationally recognized STEM programs,"  says Jeffrey Goss, associate vice provost for Southeast Asia, executive director for the Office of Global Outreach and Extended Education, or GOEE, and an assistant dean of the Fulton Schools at ASU. "We are proud to see our peer institutions in Vietnam create innovative engineering and technology degree programs that set the region's students up for success in today's 'Industry 4.0' driven global industry."
After in-depth preparations facilitated by the Fulton Schools GOEE team, the Industrial University of Ho Chi Minh City has earned ABET accreditation for six bachelor's degree programs: information systems, information technology, biotechnology, food engineering technology, mechanical engineering technology and manufacturing engineering technology.
Out of more than 150 universities in Vietnam with engineering and technology degree programs, only four have achieved ABET accreditation so far. The Industrial University of Ho Chi Minh City, known as IUH, has the most programs accredited as of 2022 and was the fifth institution to gain ABET program accreditation after Ho Chi Minh City University of Technology, Cao Thang Technical College, International University – Vietnam National University, Ho Chi Minh City and Duy Tan University. IUH is now preparing five additional programs for ABET accreditation.
ABET accreditation is achieved through an extensive peer-review process by members of industry, academia and government. No matter which country they're located in, all university programs go through the same accreditation process to qualitatively and quantitatively assess how they prepare graduates for their expected careers based on defined standards.
The process is lengthy, often taking multiple years from initial preparation to accreditation. However, the effort is very much worth it and opens up many benefits for students and the university.
"If students want to go to graduate school or work in global industry, ABET accreditation stands out," Kathy Wigal, Director of Global Operations at GOEE, says. "If a school has ABET-accredited programs, it can recruit better faculty members and obtain more research funding. ABET accreditation is truly a gold standard for STEM programs."