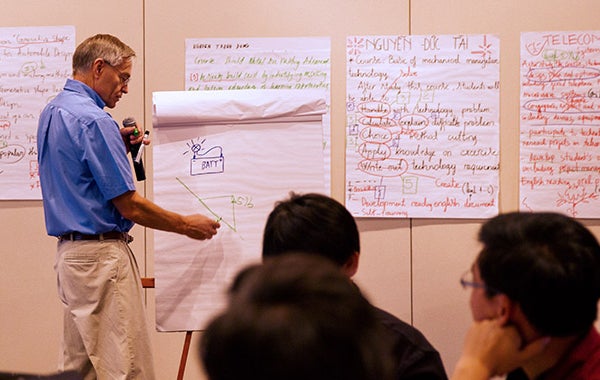 Activity #2 of the BUILD-IT Project calls for a series of Policy and Leadership seminars for executives of partner science and technology universities across Vietnam. Seminar I of the 2017 series was held at SEAMEO RETRAC from January 9-11, 2017. Seminar I focused on Policy Identification with the intent of creating a STEM Policy Agenda for each BUILD-IT partner university.
Seminar II will employ an interactive learning approach to enhance "leading policy formulation" competencies of BUILD-IT university executives. The Seminar will be led by Dr. Marcus Ingle of Portland State University (PSU) in collaboration with faculty from the Southeast Asian Ministers of Education Organization Regional Training Center in Vietnam (SEAMEO RETRAC) and Arizona State University (ASU).
Attendees: Seminar II should be attended by a team of 3 to 4 STEM-related executives from each BUILD-IT partner university – as assigned by the University Rector.
Ideally, executives participating in Seminar II should meet the following requirements:
Attended either the BUILD-IT Kickoff Seminar in September 2016 and/or Seminar I in January 2017;
Demonstrate a keen interest in learning new concepts and tools related to the topic of leading for policy formulation in a STEM University context;
Are able to collaborate with other attendees from their university in completing the pre-Seminar II assignment; and,
Are available and committed to attending both Seminar II in Nha Trang and Seminar III on "Leading University Policy Realization" in HCMC in early September 2017.
Attendees are responsible for handling their own transportation and accommodations.