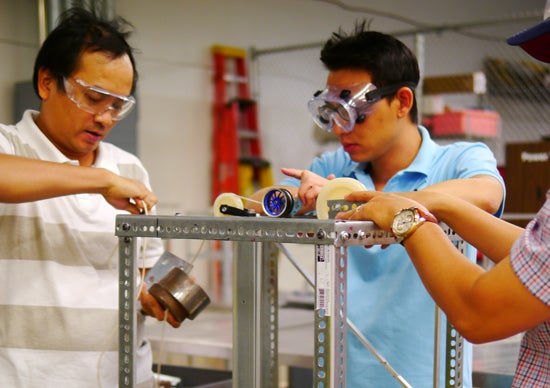 This personalized program matches select faculty with an expert Instructional Designer. The purpose of the training is to redesign a course that takes full advantage of best-practice blended delivery. Blended delivery means a combination of face-to-face and online instruction. The program will begin on 10 February and run through 15 May, 2020.
Faculty Champion Requirements
Attend a one-hour kick-off meeting with your mentor to describe your course and highlight any key points you want to consider for improvement during this redesign
Meet with your mentor twice a month for one hour over a 3-month period to develop a course redesign plan and then to build out the Moodle course shell that you will use for an upcoming teaching period.
Spend a minimum of 5 hours per week working on your course over the 3-month program.
Write an abstract and then present course enhancements with a before/after assessment of learning effectiveness at STEMCON2020 in HCMC in March.
Conduct a 4-hour workshop for faculty on campus to demonstrate lessons learned and how others can apply what was learned.
Benefits$800 USD cash stipend will be awarded at the end of the period once the faculty champion has met all of the requirements listed above.
Application
Applications will be accepted through 31 December 2019 or until we've filled all the available slots. Space is limited so interested participants should apply as soon as possible.
Please describe your course improvement goals HERE
Please upload an English version of the syllabus for the course you plan to develop HERE
Next, we need you to walk us through the Moodle course shell you're using currently by recording a demonstration. Ideally, it would be for the course that you want to redesign, however, it is fine if you prefer to walk us through a different course providing it demonstrates your familiarity with the Moodle Learning Management System.
Here are 2 free screen recording tools you can download if you don't already have something you can use. Please also include an audio narration of your course so we can hear you describe how you've set it up, Jing: https://www.techsmith.com/jing-tool.htmlScreencastomatic: https://screencast-o-matic.com/Please upload this video to a file sharing service like Google Drive or Dropbox and submit the link to this video along with your application.
Please note: The syllabus and all communication with the mentor will be in English. The stipend includes an assumption that Faculty Champions will need to spend some time translating content from Vietnamese to English in order to provide the mentor with sufficient context for the course they will develop together.