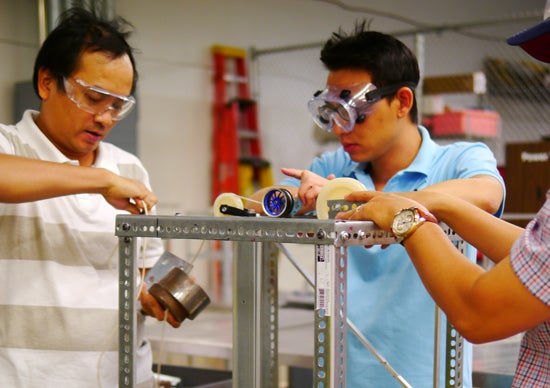 A one-day workshop with presenters from Amazon Web Services (AWS), introducing AWS technology and education programs for partner institutions of the BUILD-IT project.
Hosted by Sam Harris, AWS Educate Program Manager and Julian Lau, Principal Solutions Architect, ASEAN. With the growth of cloud in enterprise, start-ups and the public sector, this workshop will help you understand the core concepts of "Cloud Computing" and different attributes such as reliability, fault tolerance, elasticity, scalability and pay-as-you-go pricing. Additionally, this session will enable you to leverage AWS Educate to start teaching cloud computing curriculum to your students.
The workshops will be hosted at:
HCM University of Technology and Education (UTE) on 13 Mar 2017
The University of Danang - University of Science and Technology (UD-DUT) on 15 Mar 2017
VNU University of Science, Hanoi (HUS) on 17 Mar 2017 (Postponed)
Ideal for faculty, department heads and instructors teaching: Computer Science Engineering Information Technology Software Development Business
By attending this workshop, you will receive: Free access to AWS content and curriculum to teach students Promotional credit through Educate to use AWS technology Tools to teach and empower students to learn about cloud Template for students projects and assignments
By attending this session you will learn:
The benefits of cloud computing in IT Use-cases of cloud computing in Education, Enterprise and Start-up
How to leverage AWS Educate to enable your students in learning cloud technology
How to gain access to lessons and curriculum on cloud topics including security, big data, IoT, developing on cloud
AWS Educate is a global program that offers institutions free access to AWS Promotional Credits for educators and students, access to a content portal containing lectures, AWS training resources and assignments to teach and additional AWS Technical Essentials online content.
In these instructor-led workshops, AWS will brief lecturers, department heads and deans on the benefits and use of the program as well as a basic understanding of AWS technology and how to use it.