Date:

March 16th, 2021

08:00 am

-

12:00 pm

Location:

Ho Chi Minh City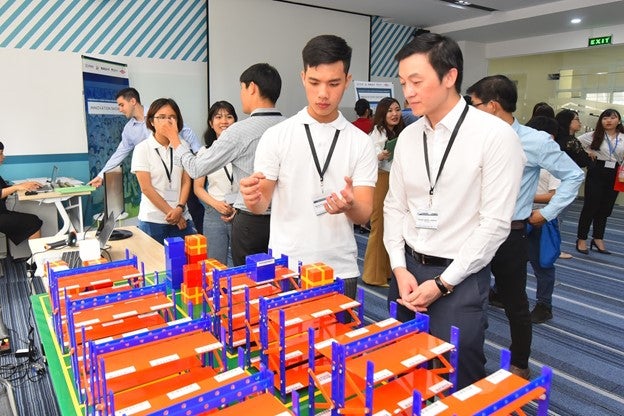 The USAID BUILD-IT & Dow Vietnam STEM Program: eProjects Innovation Showcase will be held at the Industrial University of Ho Chi Minh City on Friday, March 19th, 2021 from 9:00 AM to 12:00 PM.
8:00 AM - Project set-up
8:30 AM - eProjects Innovation Showcase
10:40 AM - eProjects Award Ceremony
11:00 AM - URI Award Ceremony
---
What's the Showcase
Innovation Showcase is an exhibit of student-produced eProjects, demonstrating how BUILD-IT students solve real-world problems with innovative and imaginative solutions. Collaborating with industry partners, students work on creating solutions to meet tangible industry and societal needs. Innovation Showcase enables creators to produce, refine and develop new inventions, new methodologies, new creations and new ideas.
---
What's eProjects
eProjects is an engineering innovation program during which faculty and industry mentors guide teams to address an industry-proposed problem statement by implementing a student-led project. During eProjects teams learn the hard and soft skills needed to become a professional engineer. Hard skills like designing, building, and testing a prototype and soft skills like team & project management.
Agenda
eProjects Innovation Showcase

| | |
| --- | --- |
| 8:00 | Registration & Project Set-up |
| | |
| 8:30 | eProjects Poster Session |
| 9:00 | Ho Chi Minh City University of Technology |
| 9:15 | Ho Chi Minh City University of Technology and Education |
| 9:30 | Lac Hong University |
| 9:45 | Industrial University of Ho Chi Minh City |
| 10:00 | Can Tho University |
| 10:15 | Da Nang University of Technology |
| Break | |
| | |
| 10:40 | Words of Encouragement |
| 10:45 | Award Announcements |
| | |
| 11:00 | URI Introduction |
| 11:05 | Research Presentations |
| 11:30 | Award Ceremony |