Date:

July 19th, 2022 - July 21st, 2022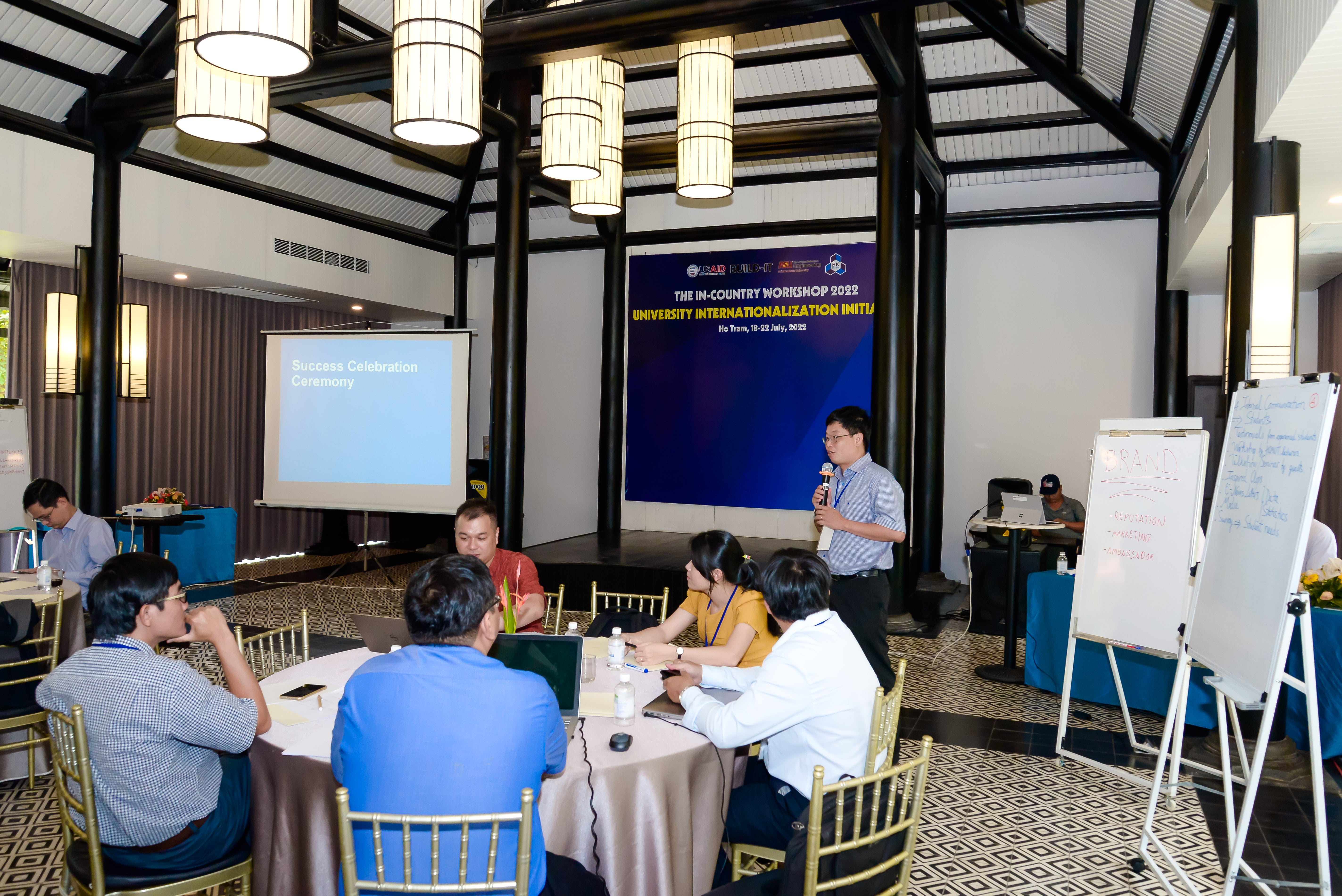 Venue: Ho Tram, Ba Ria-Vung Tau Province
Instructor: Dale Johnson, Director, University Design Institute, Arizona State University
Attendees: Deans, Rectors, Vice Rectors, Office For International Study Program Personnel
Expected Outcomes: This retreat brings in an expert from Arizona State University to create an environment where participants explore multiple areas of internationalization at the university level. Participants explore what internationalization means to their university, in both the short-term and long-term expectations. Participants will focus on both faculty and students in their goals for internationalization. Participants also learn the foundation of planning for internationalization based on their university's priorities.

Agenda
Day 1: Tuesday, July 19th

| 8:30 – 9:00 am | Introductions & Overview of Agenda |
| --- | --- |
| 9:00 – 10:30am | Internationalization Vision |
| 10:30 – 10:45am | Break |
| 10:45 – 12:00pm | Internationalization Framework |
| 12:00 – 1:00pm | Lunch |
| 1:00 – 2:30pm | Foreign Students |
| 2:30 - 2:45pm | Break |
| 2:45 - 4:00pm | Foreign Students |
Day 2: Wednesday, July 20th

| 8:30 – 9:00am | Connecting Day 1 & Day 2 |
| --- | --- |
| 9:00 – 10:30am | HCMUT Students |
| 10:30 – 10:45 am | Break |
| 10:45 – 12:00pm | HCMUT Students |
| 12:00 – 1:00pm | Lunch |
| 1:00 – 2:30pm | Foreign Faculty |
| 2:30 - 2:45pm | Break |
| 2:45 - 4:00pm | Foreign Faculty |
Day 3: Thursday, July 21st

| 8:30 – 9:00 am | Connecting Day 1 & Day 2 & Day 3 |
| --- | --- |
| 9:00 – 10:30am | HCMUT Faculty |
| 10:30 – 10:45 am | Break |
| 10:45 – 12:00pm | HCMUT Faculty |
| 12:00 – 1:00pm | Lunch |
| 1:00 – 2:30pm | Implementation Planning |
| 2:30 - 2:45pm | Break |
| 2:45 - 4:00pm | Communications Strategy |