Date:

September 23rd, 2022

08:30 am

-

04:30 pm

Location:

Can Tho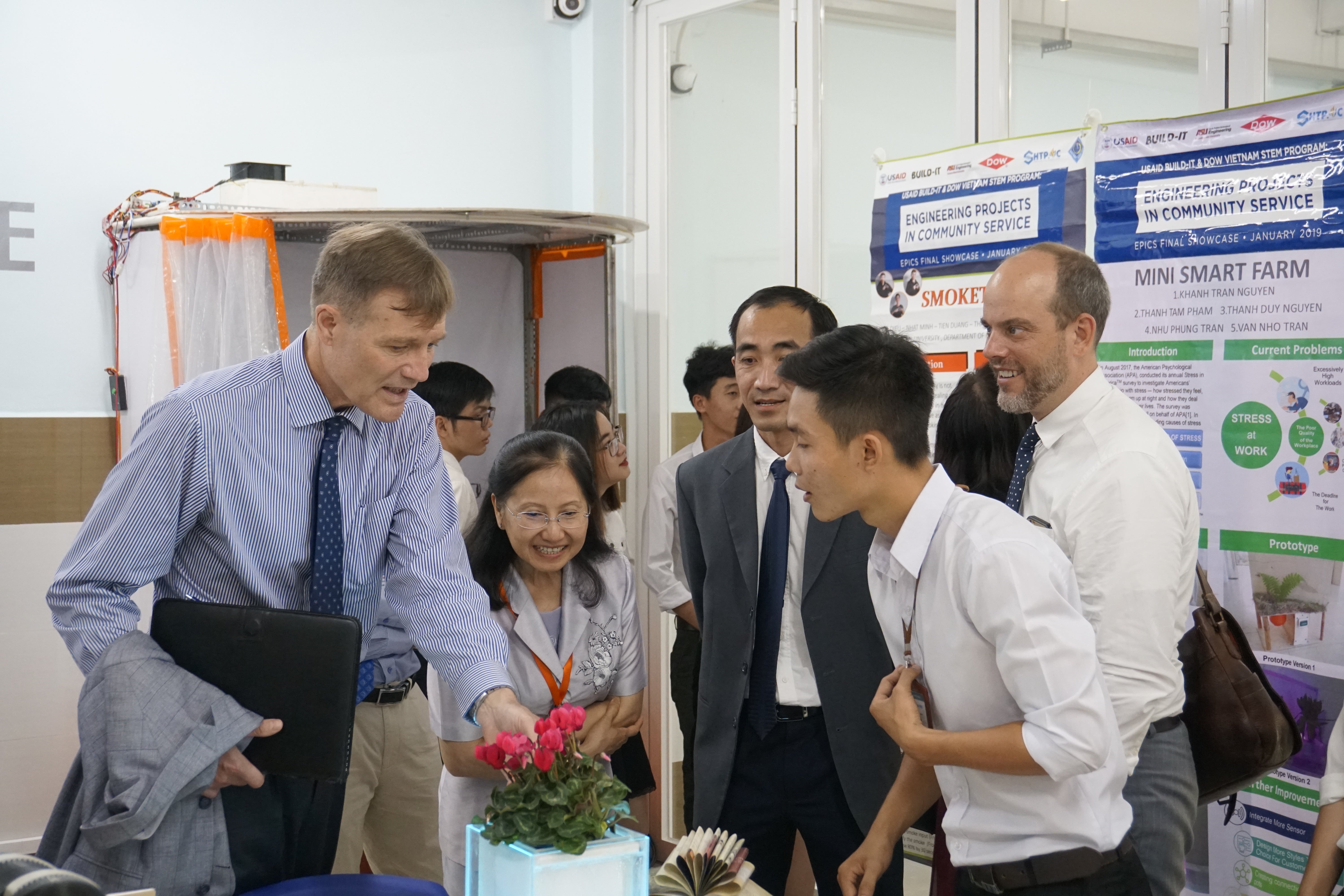 About the Playbook Forums: The 2022 series of BUILD-IT forums focus on key topics from theBUILD-IT playbooks as prioritized by university partners. Topics may include InstitutionalAccreditation, Project Based-Learning, Digital Immersion Learning, Program Accreditation (AUN-ABET),Industry Advisory Boards, Women in STEM, and the Maker Innovation Network. Sessions are held face-to-face (public health permitting) utilizing locations in Hanoi, Danang, Can Tho andHCMC. ASU and Vietnamese faculty experts will teach and conduct these sessions. BUILD-IT anticipates that the Playbooks will become recognized resources and utilized for university and HEI planning and will be utilized to build scale–reaching additional universities and engineering programs throughout Vietnam for sustainable, nationwide change.
About Maker Innovation Space (MIS): In the early 2000s, the Maker Movement inspired US universities to build makerspaces; multi-functional spaces with the workshops and tools to prototype innovations. Today, makerspaces are a critical learning space for multi-disciplinary applied projects.Vietnam's early adopters struggled to meaningfully connect their spaces with Vietnam's large public education system.
About the Maker Innovation Space Forum: USAID BUILD-IT mobilized its partners to push the maker movement into Vietnamese universities and incubation centers. We supported the Saigon Hi-Tech Park (MIS SHTP), University of Da Nang (MIS UD), and Can Tho University (MIS CTU) to develop model Maker Innovation Spaces. BUILDIT mentored makerspaces at Lac Hong University(LHU) and our academic partners. These partners constitute the Maker Innovation Network.
Suggested Attendees: University Leadership/Academic Leaders/Program Faculty Leads interested in exploring the benefits and challenges, design and implementation of Maker Innovation Spaces.
Date: September 23rd, 2022
Venue: Main Hall, Learning Resource Center, Can Tho University
Registration: Kindly register at the registration button below by September 20th, 2022. We highly encourage you to register at your earliest convenience since registration will be issued on a first come first serve basic.
Agenda
Maker Innovation Space Forum
8:30 – 9:00 am
Arrival at physical site and networking/Registration and Sign-in
9:00 – 9:15 am
Welcome Message & Forum Introduction
▪ Mr. Mitch Kirby, Senior Education Advisor, United States Agency for International Development (USAID)
▪ Professor Ha Thanh Toan, Rector Can Tho University
▪ Dr. Nguyen Anh Dung, General Deputy Director, Higher Education Department, Ministry of Education and Training
9:15 – 9:45 am
Keynote Speech: "Lessons Learned from BUILD-IT MIS"
A look at the experiences in programming and managing the BUILD - IT Maker Innovation Spaces. A look at how the solutions created the identity of the MIS today.
Speaker: Matthew McWhorter, Maker Innovation Design Lead, Arizona State University
9:45 – 10:30 am
Program Panel 1 – Maker Innovation Space as Potential for Impact
Learn about successful Maker Innovation Spaces and Industry partnerships and how they create an atmosphere where students learn, explore and innovate. Hear about how this partnership benefits both the university and the Vietnamese workforce.
Speakers:
▪ Dr. Nguyen Hoang Dung , Director, Maker Innovation Space, Can Tho University
▪ Dr. Pham Bach Duong , Director of Innovation and Entrepreneurship, Ho Chi Minh City University of Technology and Education
▪ Dr. Le Hoang Anh , Manager of Open Workshop, Lac Hong University
▪ Mr. Pham Minh Quoc, Director, Korea - Vietnam Incubator park
Moderator: Matthew McWhorter, Maker Innovation Design Lead, Arizona State University
10:30 – 10:45 am
Transition from Main Hall, Learning Resource Center to Can Tho University Maker Innovation Space
10:45 – 11:30 am
Can Tho University Maker Innovation Space Site Visit
Take this opportunity to explore Can Tho University's Maker Innovation Space and engage with both faculty and students who use this space to design, create and implement their ideas.
● Student - led Maker Innovation Space Tour
● Break – Maker Innovation Space Exhibits: Poster Session from Can Tho University Students
11:30 – 12:35 noon
Summary Comments and Invitation to Afternoon
11:35 – 1:00pm
Lunch
Afternoon session
1:00 – 4:00pm
Workshop: Guidance and Framework for Establishing your Maker Innovation Space
This workshop focuses on providing an introduction to the creation of a Maker Innovation Space. Participants work towards creating an active plan for implementing their MIS using a template to establish next steps for your MIS. Participants identify short - term and long - term goals in establishing your MIS.
Presenter: Matthew McWhorter, Maker Innovation Design Lead, Arizona State University
4:00pm
Closing Remarks from MIS