Date:

August 5th, 2022

08:30 am

-

05:00 pm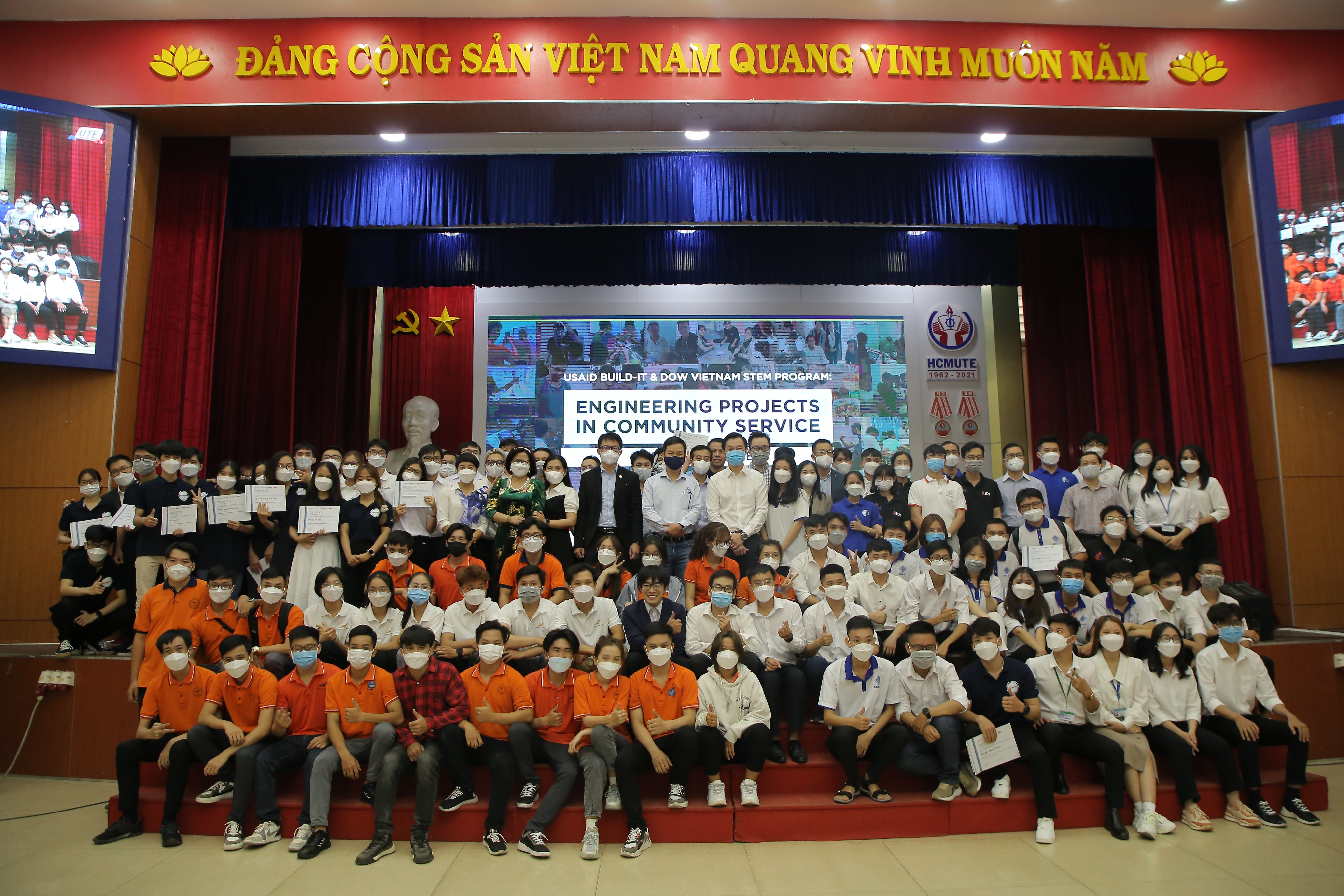 The 2022 series of BUILD-IT forums focus on key topics from the BUILD-IT playbooks as prioritized by university partners. Topics may include Institutional Accreditation, Project Based-Learning, Digital Immersion Learning, Program Accreditation (AUN-ABET), Industry Advisory Boards, Women in STEM, Maker Innovation Network, and Faculty Development and Active Learning, etc. Sessions will be held face-to-face (public health permitting) utilizing locations in Hanoi and HCMC. ASU and Vietnamese faculty experts will teach and conduct these sessions. BUILD-IT anticipates that the Playbooks will become recognized resources and utilized for university and HEI planning and will be utilized to build scale – reaching additional universities and engineering programs throughout Vietnam for sustainable, nationwide change.
About Engineering Projects in Community Service (EPICS): Helping students learn both the soft and hard skills needed to be successful. EPICS is an internationally recognized engineering-based service learning and social innovation applied project program that inspires students to use engineering and human-centered design to build solutions for social challenges. EPICS asks student teams to partner with local community organizations to address community-based human and environmental challenges. Community organizations are encouraged to take advantage of students' technical skills to improve, coordinate, and build pragmatic innovations for their communities.
About the EPICS Forum: Celebrating the successful partnership between USAID, BUILD-IT and their strategic partner universities, this forum explores the positive impact of Engineering Projects in Community Service (EPICS). Participants experience how Vietnamese universities expand their capacity to organize and operate innovative multi-disciplinary project-based learning programs. Representatives from current EPICS programs discuss challenges and successes in implementing their own EPICS programs, and local industry experts examine their involvement in contributing to student impact.
Suggested Attendees: University Leadership/Academic Leaders/Program Faculty Leads interested in expanding their institution's community impact.
Location: Conference Room, 3rd Floor, Learning Resources and Communication Center, The University of Danang – University of Science and Technology, 54 Nguyen Luong Bang, Hoa Khanh Bac, Lien Chieu, Danang
Agenda
8:30 – 9:00 am
Arrival at physical site and networking/Registration and Sign-in
9:00 – 9:15 am
Welcome Message & Forum Introduction
Ms. Cristina Fentross, Acting Deputy Mission Director, United States Agency for International Development (USAID)
Prof. Doan Quang Vinh – Rector – The University of Danang– University of Science and Technology
Ms. Phuong Anh Tran Dang, Country Director, Arizona State University Representative Office Vietnam, Hanoi Project Office
9:15 – 9:45 am
Keynote Speech
Dr. Jared Schoepf, Arizona State University
Brief overview of the nature of Engineering Projects in Community Service, the motivation, the challenges, the successes, and the impact
9:45 – 10:30 am
Program Panel – EPICS Leaders Explore EPICS in their Institutions
Learn about successful EPICS programs from educators who have effectively implemented this valuable and engaging program.
Panelists:
Assoc. Prof. Dr. Phan Thi Mai Ha, Ho Chi Minh City University of Technology
Ms. Van Dinh Vy Phuong, Lac Hong University
Dr. Pham Anh Duc, The University of Danang, University of Science and Technology
Moderator: Dr. Jared Schoepf, ASU
10:30 – 11:00 am
Break – EPICS Project Exhibition
Student Team Winners can present their successful projects
11:00 – 11:50 am
Panel: How Industry and EPICS Align to Create Impact
Ms. My Nguyen, AWS-ASEAN Prototype Architect
Mr. Son Nguyen, Vice President, DOW Vietnam
Moderator: Dr. Ngo Dinh Thanh, Faculty, The University of Danang - University of Science and Technology
11:50 – 12:00 noon
Summary Comments and Invitation to Afternoon
12:00 – 1:15 pm
Lunch
1:15-2:15 pm
Workshop 1: Fundamentals of Establishing EPICS in your Institution
This workshop focuses on providing an introduction to the creation of an EPICS program. Designed for audience members new to EPICS, this workshop elaborates on the benefits and challenges of establishing an EPICS program, as well as what is needed to begin designing and implementing an EPICS program
Presenter: Dr. Jared Schoepf, Arizona State University
2:15-3:15 pm
Panel 3: Epics Students Discuss the Challenges and Successes of Participating in an EPICS challenge
Hear directly from student teams who have created winning engineering products in past EPICS Showcases
Nguyen Thi Hien, The University of Danang – University of Science and Technology- 1st prize EPICS5
Trinh Mai Hoang Anh, Ho Chi Minh University of Technology – 2nd prize EPICS5
Hoang Duc Quy, Industrial University of Ho Chi Minh City - 3rd prize EPICS5
Bui Thi Diem, Lac Hong University, 1st prize EPICS4
Moderator: Dr. Jared Schoepf, ASU
3:15-3:30 pm
Break
3:30-4:00 pm
Introduction to the integration of EPICS and MIS
Learn about how the relationship between Maker Spaces and Engineering Projects in Community Service are symbiotic and contribute to significant positive social change
Presenter: Dr. Tran The Vu, Head of Engineering, VNUK & Representative. From Maker Innovation Space Danang
4:00-5:00 pm
Next Steps in Planning your EPICS Program
Learn about how you can leverage your school's resources to create an impactful EPICS experience
Co-Presenters: Assoc. Prof. Dr. Pham Van Tuan, Director – Educational Testing and Quality Assurance Department, The University of Danang - University of Science and Technology
Dr. Nguyen Thi Anh Thu, Vice Dean - Vice Director, Danang International Institute of Technology; Academic Lead, 21st Century Skill Program, The University of Danang - University of Science and Technology