Date:

October 21st, 2022

08:30 am

-

04:00 pm

Location:

Hanoi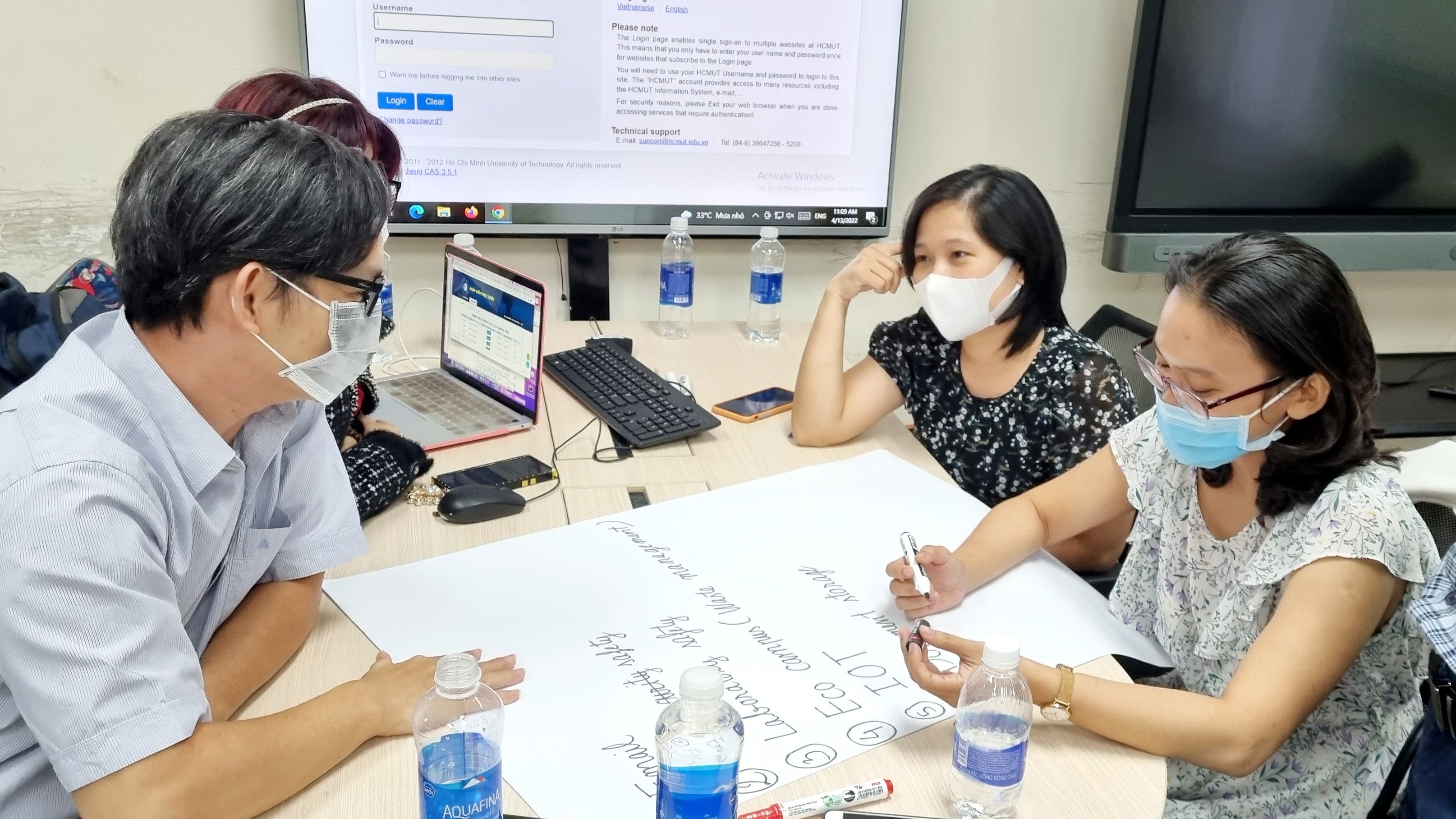 About the Playbook Forums: The 2022 series of BUILD-IT forums focus on key topics from the BUILD-IT playbooks as prioritized by university partners. Topics may include Institutional Accreditation, Project Based-Learning, Digital Immersion Learning, Program Accreditation (AUN-ABET), Industry Advisory Boards, Women in STEM, Maker Innovation Network, and Faculty Development and Active Learning, etc. Sessions will be held face-to-face (public health permitting) utilizing locations in Hanoi and HCMC. ASU and Vietnamese faculty experts will teach and conduct these sessions. BUILD-IT anticipates that the Playbooks will become recognized resources and utilized for university and HEI planning and will be utilized to build scale – reaching additional universities and engineering programs throughout Vietnam for sustainable, nationwide change.
About Digital Immersion: With distance learning taking off at the end of the 20th century, the new millennium brought technology that allowed both synchronous and asynchronous digital learning. Digital immersion learning has grown rapidly beyond its initial presentation. The expectations of virtual learning have increased. It is more than a student sitting alone and working independently with little or no interaction with others. Effective Digital Immersion provides engagement, opportunity, collaboration, and a valuable educational experience. It expands access to content and the chance for learners to establish their own path with genuine support from the institution. It is the responsibility of the faculty and staff of universities that the same quality in-class education is available when students move into the virtual educational world.
About the Digital Immersion Forum: Celebrating the successful partnership between USAID, BUILD-IT and their strategic partner universities, this forum explores the positive impact of Digital Immersion on higher education in Vietnam. Focusing stakeholders in Vietnamese higher education unfamiliar with BUILD-IT support programs, this forum presents components of BUILD-IT's 3 Streams of Digital Immersion model, including Digital Pedagogy in Higher Education, Embedding In-House Experts, and Improving Digital Education. Participants hear from faculty, staff and administration of BUILD-IT University Strategic Partners who have implemented and benefited from these programs. Speakers and panelists discuss and explain the successes, challenges and solutions experienced from personal involvement in these endeavors.
Suggested Attendees: University Leadership/Academic Leaders/Program Faculty Leads interested in expanding the role and benefit of digital education in their higher education institution.
Date: October 21st, 2022
Venue: Hanoi University of Industry
Registration: Kindly register at the registration button below by October 17th, 2022. We highly encourage you to register at your earliest convenience since registration will be issued on a first come first serve basic.
Agenda
Digital Immersion Forum
Friday, October 21st, 2022 - Hanoi
8:30 – 9:00 am
Arrival at physical site and networking/Registration and Sign-in
9:00 – 9:15 am

Welcome Message & Forum Introduction

Ms. Aler Grubbs, Mission Director, USAID (invited)
Representative of Ministry of Education and Training (invited)
Dr. Kieu Xuan Thuc, Vice Rector, Hanoi University of Industry

9:15 – 9:45 am

Keynote Speech: The Future of Digital Education in Vietnamese Higher Education

Mr. Robert Sherwood, Algorithmics, Ho Chi Minh City, Vietnam

9:45 – 11:00 am

Program Panel – Digital Pedagogy in Higher Education

Digital education is an asset to universities looking to better support their students and their community. However, it is a skill and it needs to be developed. Learn how to incorporate digital education into your school and about the benefits of the DPHE program. Hear how it has been implemented in Vietnamese institutions. Explore the successful implementation strategies and stand on the shoulders of giants in Academia.           

Moderator: Dr. Robert Schoenfeld, Arizona State University

Panelist 1:  Dr. Duong Thi Kim Oanh, HCMC University of Technology and Education

11:00 – 11:30am

Break –Increasing Digital Assets Exhibition
Participants in the Increasing Digital Assets program will demonstrate their projects and how they contributed to positive impact in their institution.

11:30 – 12:00pm

University Success Stories

Hear how two pioneers in digital education in Vietnamese higher education took initiative to improve the quality of their online instruction.

Speaker 1: Dr. Pham Tran Bich Thuan, Industrial University of HCMC

Speaker 2: Representative from a academic partner (TBD)

12:00 - 1:30pm
Lunch
1:30 - 4:00pm

Workshop:

Preparing Vietnamese Higher Education Faculty for Virtual Teaching Environments

With the onset of the digital education revolution at the beginning of the 20th century, and reinforced by the realities of COVID, schools have deliberately attempted to improve their online presence. This workshop presents strategies, skills and next steps for Developing a faculty program that addresses the needs of the university. This workshop is founded on the personal experiences of the presenters who have successfully created digital immersion plans. Based on this participants leave the workshop with a tangible plan of action detailing how they can implement digital immersion in their institutions

Presenter: Dr. Pham Tran Bich Thuan, Industrial University of HCMC

Presenter: Dr. Duong Thi Kim Oanh, HCMC University of Technology and Education

Presenter: Dr. Le Phuong Truong, Lac Hong University

4:00pm

Closing Remarks

Presenter: Representative of Hanoi University of Industry (TBD)
Presenter: Dr. Robert Schoenfeld, Program Manager, Arizona State University