Date:

January 5th, 2023

08:15 am

-

04:30 pm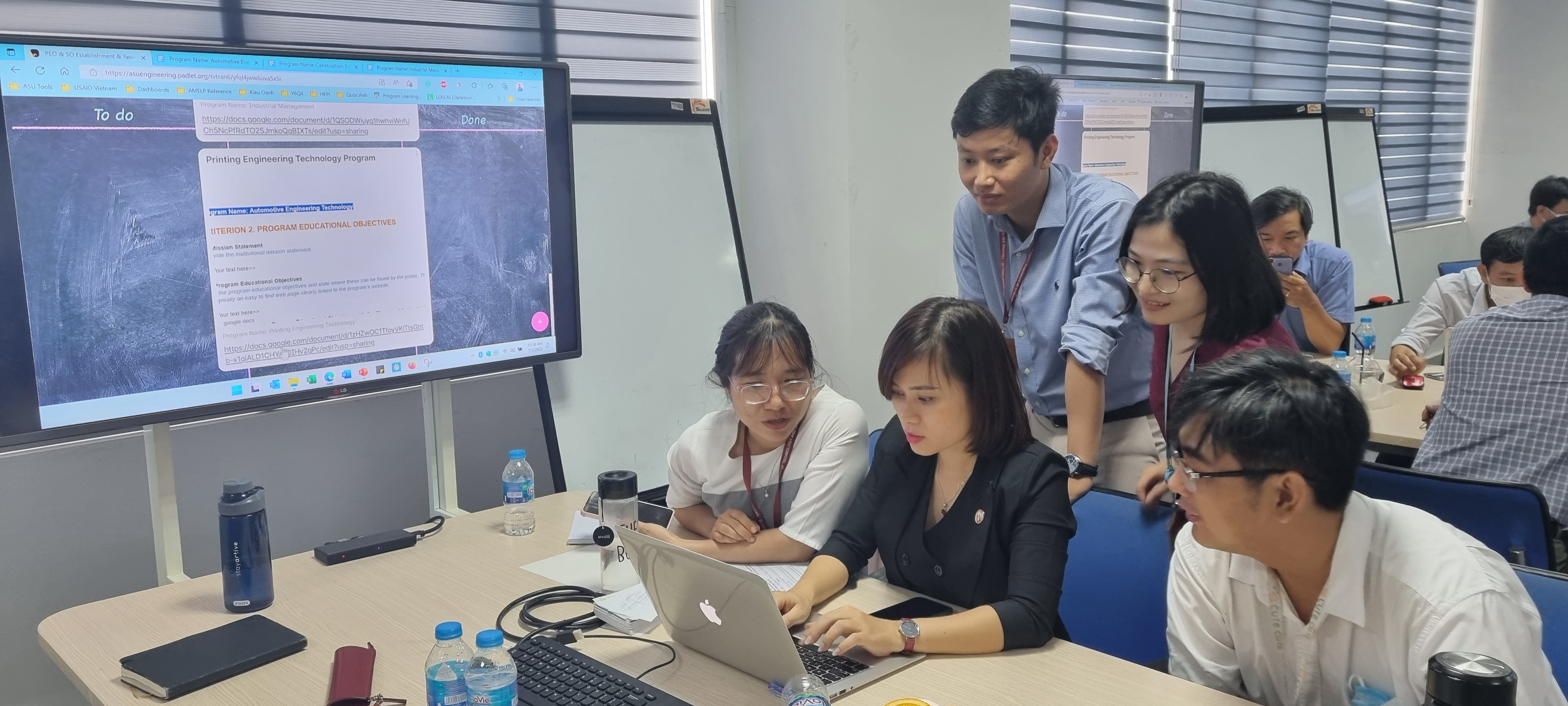 Date: Tuesday, 5 January 2023
Venue: ASU Regional Office, 65 Huynh Thuc Khang street, Ben Nghe ward, district 1, HCMC
Instructors: Dr. Scott Danielson; Mr. Thai Tran; and BUILD-IT Coordinator – Arizona State University, Ms. Lien Le
Attendees: Partner Universities: Vice-Rectors, Deans, Division/Department Chairs, Faculty Leaders
Expected Outcomes: Many higher education leaders and faculty may have heard the term "design thinking" and wondered how it differs from regular thinking. Design thinking is a deliberate, creative, and powerful tool for improved process or product design. Design thinking is a human-centered, iterative problem-solving approach combining what is desirable, equitable, technologically feasible, and sustainable. Participants first explore design thinking basics and why it is so popular—and why we should adopt it within a University. In a "volatile, uncertain, chaotic, ambiguous world (VUCA world), applying the principles of design thinking in higher educational institutions can help the participants in finding solutions to intractable issues or creating new models and collaborations. It can even make work more fun and engage university staff in new ways!
Agenda
8:15 – 8:30
Registration and Networking
8:30 – 9:15
Activity: Paper Airplane Challenge
9:15 – 9:45

Higher Education in the VUCA (Volatile, Uncertain, Chaotic, Ambiguous) World

The world of higher education is changing for many reasons—expectations of the public, changes in education law allowing autonomy, economic integration and expectations/desires of students and lecturers. Using the same institutional models and processes as decades ago hinders a university and makes it less competitive in today's educational marketplace.

9:45 – 10:15

What is Design Thinking and Why Is It So Popular?

Design thinking has its roots in engineering design and product development. Basic tenants of design thinking, their implementation and benefits is explored.

10:15 – 10:30
Tea and Coffee Break
10:30 – 11:00

Using Design Thinking in Higher Education

Extension of design thinking into the world of higher education and improving university processes and products, e.g., academic programs, is explored.

11:00 – 11:30

Traditional Leadership versus Design-Inspired Leadership

Design thinking inspires a different type of leadership—and leadership is critical to implementing any change or when facing new challenges. Design-inspired leadership helps an institution develop a pervasive culture of quality. Also, this supports re-conceptualizing a university to be an "academic enterprise" that takes advantage of opportunities in a more nimble fashion.

11:30 am – 13:30
Lunch (on your own)
13:30 – 15:00

Design-Inspired Leadership: Roles and Mindsets to Bring Positive Change

Guidelines and examples related to design-inspired leadership are explored.

15:00 – 15:15
Tea and Coffee Break
15:15 – 16:20

Tips for Using Design Thinking to Transform Educational Practice

Participants will be exposed to various best practices for implementing design thinking within an academic enterprise.

16:20 – 16:30
Wrap-up and Thank you!