Date:

April 15th, 2022

08:30 am

-

04:00 pm

Location:

Ho Chi Minh City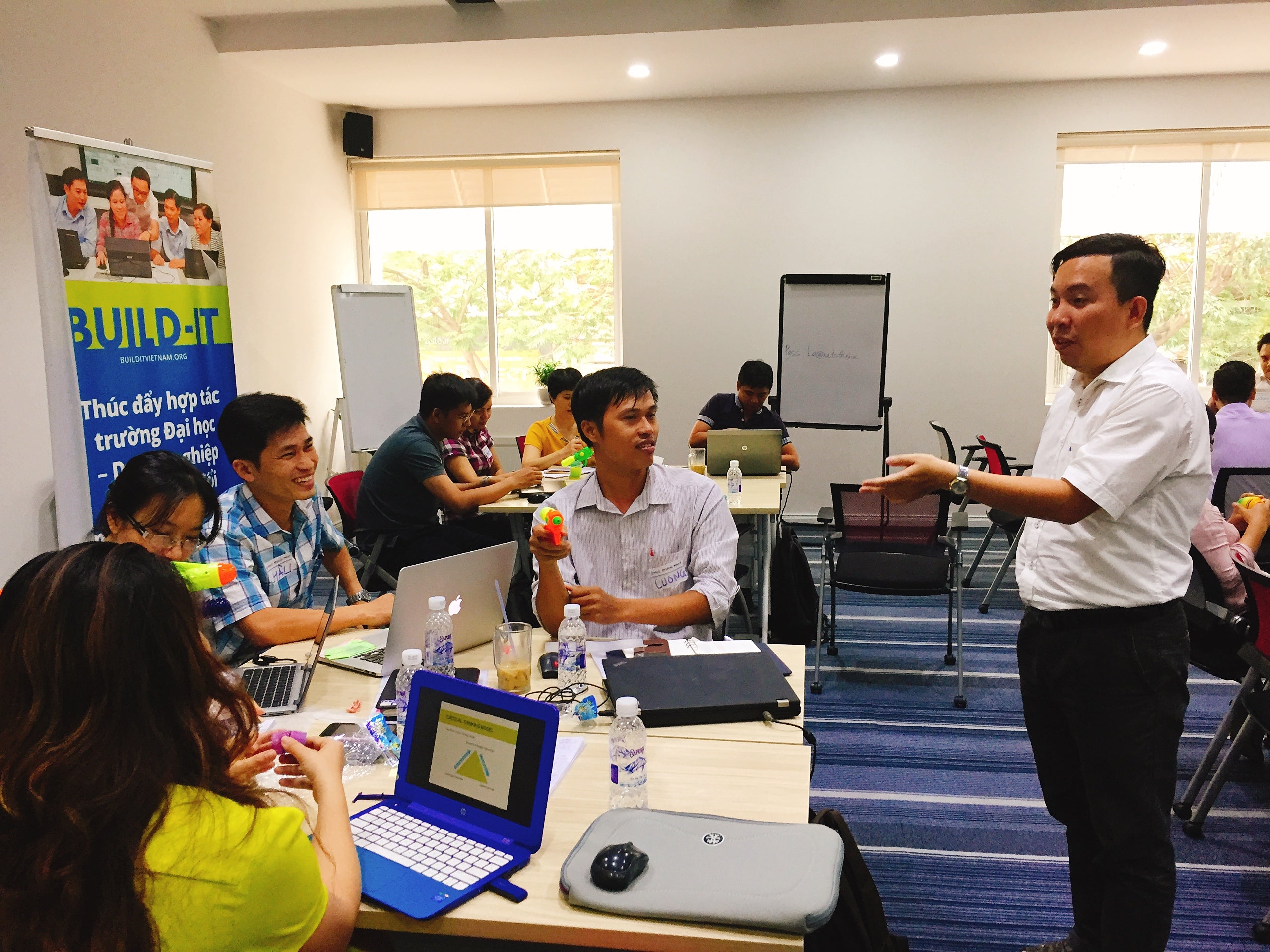 The 2022 series of BUILD-IT forums focus on key topics from the BUILD-IT playbooks as prioritized by university partners. Topics may include Institutional Accreditation, Project Based-Learning, Digital Immersion Learning, Program Accreditation (AUN-ABET), Industry Advisory Boards, Women in STEM, Maker Innovation Network, and Faculty Development and Active Learning, etc. Sessions will be held face-to-face (public health permitting) utilizing locations in Hanoi and HCMC. ASU and Vietnamese faculty experts will teach and conduct these sessions. BUILD-IT anticipates that, the Playbooks will become recognized resources and utilized for university and HEI planning and will be utilized to build scale – reaching additional universities and engineering programs throughout Vietnam for sustainable, nationwide change.
About this Forum: The BUILD-IT Applied Problem-Based Learning Forum brings together members of academia, government, and industry to share and discuss Applied Problem-Based Learning success stories in Vietnamese Higher Education. The core competency for a prepared and effective workforce is developed through Problem-Based Learning, which motivates students to take responsibility in the learning process. To help university faculty become more adept in this manner of instruction, BUILD-IT created and implemented the Certified Facilitator and Master Teacher Training program to promote Applied Problem-Based Learning in classrooms to help prepare them for the industry 4.0 workforce. Guest speakers will highlight their perspectives and experiences on changes they have seen in the past decade and how those changes have been influenced by the ever-changing demands of the workforce in Vietnam.
Location Address:
Industrial University of Ho Chi Minh City
12 Nguyen Van Bao Street, Ward 4, Go Vap District, Ho Chi Minh City
- Morning Session: Room B4.06, Building B, Floor 4
- Afternoon Session: Room B4.05, Building B, Floor 4
Due to the limited number of seats, we strongly recommend that you register at your earliest convenience. The event is assigned on a first come first serve basis and only successful registrants get the confirmation from BUILD-IT.
Agenda
| 8:30 - 9:00 am | Arrival at physical site and networking |
| --- | --- |
| 9:00 – 9:15 am | Welcome Message & Forum Introduction |
| | Mr. Jeffrey Goss, BUILD-IT Principal Investigator and Associate Vice Provost for Southeast Asia Programs, Arizona State University |
| | Rector Phan Hong Hai, Industrial University of Ho Chi Minh City |
| | Representative, Ministry of Education and Training (Invited) |
| 9:15 – 9:45 am | Keynote Speech: Mr. Ace Wilson, Acting General Manager, Intel Products Vietnam |
| 9:45 – 10:30 am | Fireside Chat: Transforming Student Learning Experiences by Promoting Applied Problem-Based Learning Strategies |
| | Speaker: Dr. Nguyen Huy Phuc, Head of Office of Testing and Quality Assurance, Industrial University of Ho Chi Minh City |
| | Moderator: Mr. Jimmy Cervin, Program Manager, Arizona State University |
| 10:30 – 10:50 | Break |
| 10:50 – 12:00 pm | Panel: Collaborations in Teaching and Learning Innovation: Successes in Aligning Industry Demands and Academic Programs |
| | DOET Representative |
| | HEI Representative 1: Dr. Dam Sao Mai, Vice Rector, Industrial University of HCMC |
| | HEI Representative 2: Dr. Ngo Dinh Thanh, Vice Director, Department of Educational Testing and Quality Assurance, UDN-DaNang University of Science and Technology |
| | Industry Representative 1: Mr. Giap Van Vy, Channel Sales Account Manager, Rockwell Automation |
| | Industry Representative 2: Ms. Valerie Leong, Program Manager, Amazon Web Service |
| | Moderator: Dr. Robert Schoenfeld, Program Manager, Arizona State University |
| 12:00 – 1:00 | Lunch Break |
| 1:00 – 4:00 | Developing Sustainable Faculty Development Programs that Promote Applied Project-Based Learning in Classrooms |
| | Facilitator 1: Dr. Pham Tran Bich Thuan, Deputy Head of Office of Science Management and International Affairs, Industrial University of Ho Chi Minh City |
| | Facilitator 2: Assoc. Prof. Dr. Pham Huy-Tuan, Head of Quality Assurance, Ho Chi Minh City University of Technology and Education |
| | Facilitator 3: Dr. Phan Thi Mai Ha, Lecturer, Ho Chi Minh City University of Technology |