Date:

January 6th, 2023

08:00 am

-

04:00 pm

Location:

Ho Chi Minh City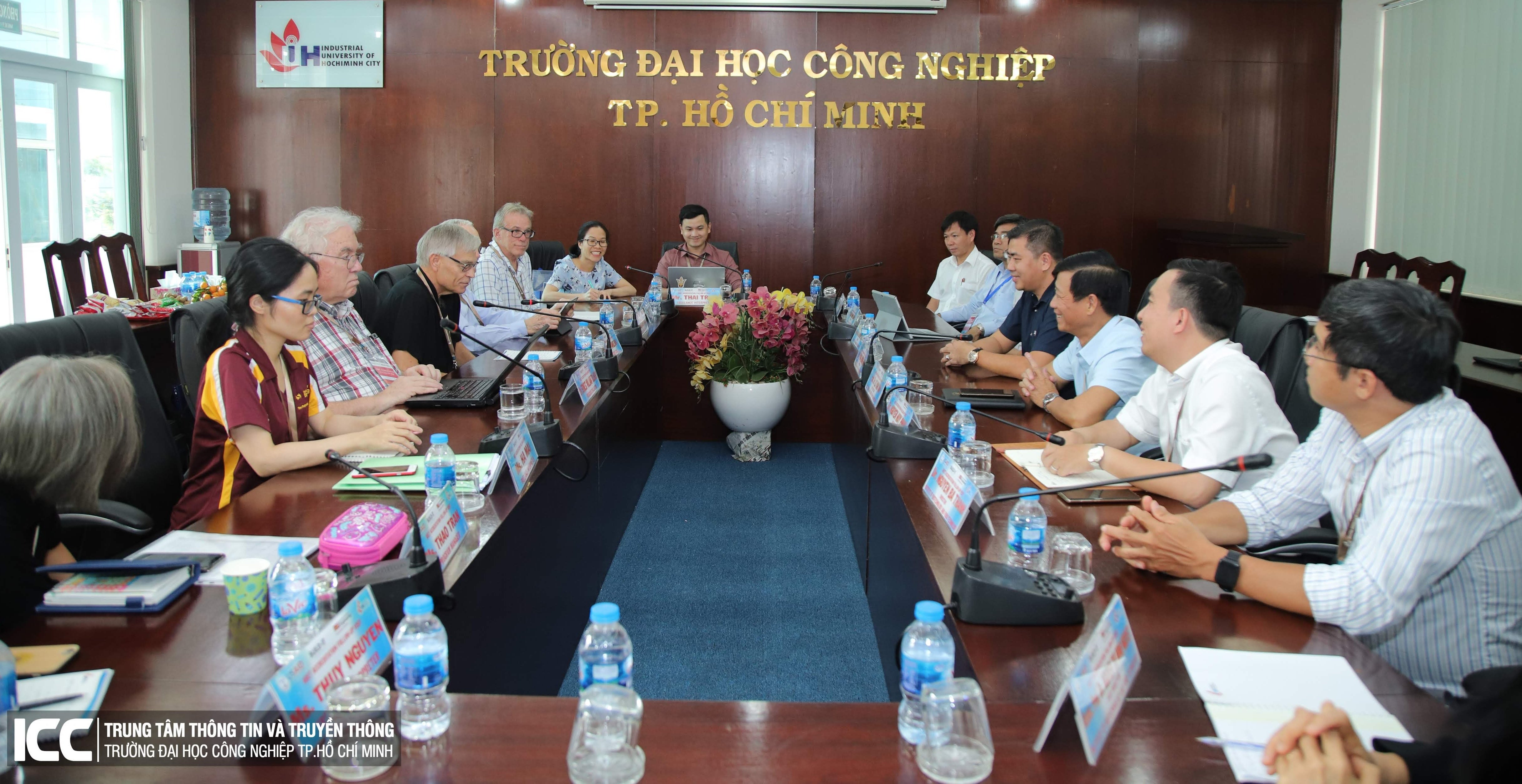 The forum brings together a national audience focused on implementing best practices for international recognition, e.g., ABET accreditation. This forum provides an introduction to a structured approach and key factors leading to successful ABET program accreditation. Increased capacity development of participants via keynote address and panel sessions highlighting Vietnamese successes in obtaining ABET accreditation. Proven models and key success factors will be highlighted, all within the Vietnamese context. The afternoon workshop provides guided exploration of necessary steps towards successful international recognition of programs.
Suggested Attendees: University Leadership/Academic Leaders/Program Faculty Leads interested in enrolling, supporting and graduating women in their higher education institution.
ABET Forum: ABET Accreditation Value and Success Showcase
Date: Friday, January 06, 2023
Venue: Industrial University of Ho Chi Minh City (12 Nguyen Van Bao St., Go Vap Dist., HCMC)
Presenters/Panelist: Dr. Scott Danielson --- Arizona State University, Representatives from Vietnamese & BUILD-IT Partner Schools involved in ABET Accreditation
Registration: Kindly register at the registration button below by December 31, 2022. We highly encourage you to register at your earliest convenience since registration will be issued on a first come first served basis.
Agenda
ABET Forum: ABET Accreditation Value and Success Showcase
8:00 – 8:30 am

Arrival at physical site and networking/Registration and Sign-in

Poster Session Set-up (primary viewing at break and lunch)

8:30 – 8:45 am

Welcome Remarks

Welcome to the Forum, introduction to its purpose and brief BUILD-IT Introduction

Mr. Timothy Ong, Office Director, United States Agency for International Development (USAID)
Assoc. Prof. Dr. Dam Sao Mai, Vice Rector Industrial University of Ho Chi Minh City
Dr. Kathy Wigal, BUILD IT Project Director, Director for Global Operations, Arizona State University (video recording)
Dr. Michael Milligan, Executive Director and CEO, ABET (video recording)

8:45 – 9:15 am

Keynote Speaker

Brief overview of the nature of ABET evaluation, its value and benefits of ABET accreditation will lead into an overview of structured and successful process, tested by Vietnamese programs, leading to ABET accreditation.

Dr. Scott Danielson, Arizona State University

9:15 – 10:00 am

Program Panel – Focus on Success Factors

Panelists from Industrial University of Ho Chi Minh City, Lac Hong University, Hanoi University of Industry and Cao Thang Technical College will share the success factors in their path toward ABET accreditations.

Panelists:

Dr. Nguyen Thanh Lam, Vice Rector, Lac Hong University
Dr. Nguyen Huy Phuc, Head of Office of Testing & Quality Assurance, Industrial University of Ho Chi Minh City
Ms. Ngo Thi Thanh Binh, Deputy Director, Office of Science & Technology and International Cooperation, Cao Thang Technical College
Dr. Pham Van Thoan, Deputy Head of Academic Affairs Department, Hanoi University of Industry

Moderator: Dr. Scott Danielson, Arizona State University

10:00 – 10:30 am

Coffee and Tea Break – Poster Session

A poster exhibition highlighting key aspects of accreditation & preparation

10:30 – 11:15 am

Program Panel – Why is ABET Accreditation Important to Vietnam and Industry?

A panel discussion for sharing viewpoints from Government, Industry and Academic representatives.

Panelists:

Mr. Dang Minh Su, Head Vocational Education, Department of Labors, Invalids and Social Affairs, HCMC
Dr. Lam Thanh Hien, Rector, Lac Hong University
Dr. Kieu Xuan Thuc, Vice Rector, Hanoi University of Industry
Dr. Le Dinh Kha, Rector, Cao Thang Technical College
Mr. Vuong Ngoc Hoang, Director, East Sea Technology Engineering Electrical Automation Co., Ltd

Moderator: Assoc. Prof. Dr. Dam Sao Mai, Vice Rector, Industrial University of Ho Chi Minh City

11:15 – 12:00 pm

Myth Busters

Panelists:

Dr. Chau Minh Quang, Vice Dean, Institute of International and Postgraduate Education, Industrial University of Ho Chi Minh City 

Moderator: Prof. Dr. Vo Van Toi, Vice-Provost for Life and Health Science, Engineering and Technology Development, International University - Vietnam National University, Ho Chi Minh City

12:00 – 12:15 pm

Summary Comments and Invitation to Afternoon

12:15 – 1:30 pm

Lunch Break

Afternoon Workshop

Diving into ABET Accreditation:
Structured Journey to Achieving International Accreditation

Best practices and lessons learned from Vietnamese universities into developing and implementing successful efforts for ABET accreditation.

1:45-2:45 pm

Leadership's Involvement in Successful International Accreditation and Recognition

Dr. Nguyen Thanh Lam, Vice Rector, Lac Hong University
Dr. Nguyen Huy Phuc, Head of Office of Testing & Quality Assurance, Industrial University of Ho Chi Minh City
Ms. Ngo Thi Thanh Binh, Deputy Director, Office of Science & Technology and International Cooperation, Cao Thang Technical College 

Continued success in achieving and maintaining international recognition like ABET requires institutional leadership commitment and action. Beyond individual program accreditation and recognition, leadership may strive for a broader culture of quality improvement.  Continuous quality improvement requires an organization/program to be constantly seeking ways to improve the educational environment and student learning. 

Session facilitators will address their experiences and suggest best practices related to leadership's role in achieving successful international recognition and an institutional culture of quality improvement.

Topics will include:

Key aspects of institutional leadership commitments and designation of roles
Commitment of resources to attain the goal
Holding programs accountable while encouraging their success
Developing a culture of meaningful quality improvement—work that really leads to improvements using ABET-compliant processes

2:45-3:00 pm

Break

3:00-4:00 pm

Critical Tasks for Programs Working Towards International Accreditation by ABET

Dr. Chau Minh Quang, Vice Dean, Institute of International and Postgraduate Education, Industrial University of Ho Chi Minh City 
Dr. Le Phuong Truong, Head of office Educational Testing and Quality Assurance, Lac Hong University
Dr. Pham Van Thoan, Deputy Head of Academic Affairs Department, Hanoi University of Industry
Mr. Nguyen Quoc Van, Dean, Mechanical Faculty, Cao Thang Technical College

This track focuses on key steps program leaders and lecturers must take for successful international accreditation by ABET.  Session facilitators will address their experiences and suggest best practices related to the work a program must do for achieving successful international recognition by ABET.

Topics will include:

Benchmarking program structure and contents – what topics and courses are in the program (especially important for ABET accreditation)
Developing a focus on program quality and an efficient, effective and data informed processes to guide improvement of student learning
Writing an effective self-assessment report (one of the most important elements for success)
Efficient and effective stakeholder involvement