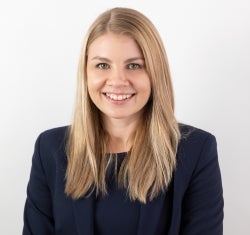 Associate Managing Director
Chief of Staff
Representative Office Vietnam
Arizona State University
Alexandra.Stinchfield@asu.edu
Alexandra (Sasha) Stinchfield is an Associate Managing Director and Chief of Staff for Arizona State University's Vietnam Representative Office where she directs project operations and leads a portfolio of education innovation and workforce development projects working closely with the public and private sectors. A primary focus is on the development of new projects and programs that support ASU's vision for growth in Vietnam and Southeast Asia.
Before joining the ASU Vietnam team, Sasha was with the ASU International Development Office where she served as portfolio development manager, leading the strategic development of new business, global project management, processes innovation and relationship management. She has extensive experience cultivating and consulting on major global funded initiatives, such as with the United States Agency for International Development, World Bank, Inter-American Development Bank and other donor organizations. In this role, she led technical projects activities in Brazil, El Salvador and Kenya.
Sasha holds an executive master's degree in sustainability leadership and a bachelor's degree in global studies from Arizona State University.